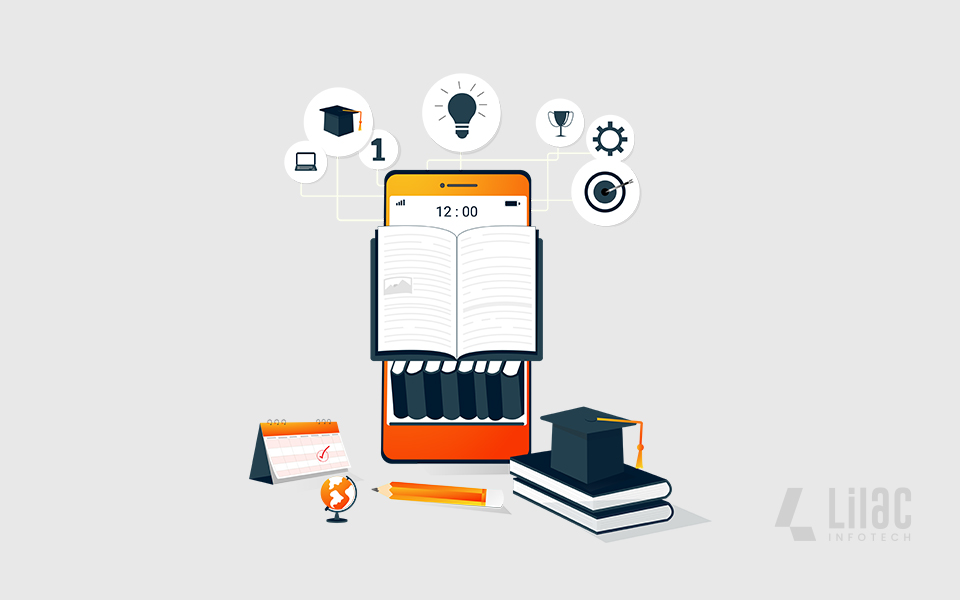 ---
Have you ever dreamed of developing an innovative e-learning app? Well, why not turn that dream into reality starting at this very moment? With the potential to revolutionize education and empower learners worldwide, developing an e-learning app can be an incredibly rewarding journey.
E-learning Applications have emerged as a transformative force in education, revolutionizing the way people learn and access knowledge. These software applications are purpose-built to deliver educational content, courses, and interactive learning experiences directly to mobile devices such as smartphones and tablets. The ubiquity of smartphones and the widespread availability of high-speed internet have paved the way for e-learning mobile apps to flourish. Learners can now access a vast array of educational materials and resources at their fingertips, transcending traditional barriers of time and location. Whether on a train commute, during a lunch break, or from the comfort of one's home, these apps provide the freedom to engage in learning at any time and anywhere.
E-learning platforms often leverage cutting-edge technologies to enrich the learning experience. They utilize multimedia elements, interactive quizzes, gamification techniques, virtual simulations, and augmented reality to create engaging and immersive lessons. By making learning interactive and enjoyable, these apps foster increased retention and understanding of the material.
In the realm of professional development, e-learning applications have become indispensable tools for upskilling and staying relevant in a rapidly changing job market. They offer courses and certifications that can enhance one's resume, leading to improved career prospects.
Why E-learning Applications?
E-learning Applications have gained immense popularity and significance in recent years due to their transformative impact on education. These platforms have experienced a meteoric rise in popularity and significance, thanks to their transformative impact on education. Offering a myriad of advantages, these platforms have become the preferred choice for learners and educators alike. With unparalleled flexibility and accessibility, learners can access educational content and courses anytime and anywhere through their computers or mobile devices, breaking down geographical barriers and accommodating diverse learning styles. Incorporating interactive and multimedia elements, e-learning platforms create an engaging and immersive learning experience, enhancing knowledge retention and encouraging active participation. Leveraging data-driven insights and adaptive learning algorithms, these platforms personalize the learning journey, catering to individual strengths and weaknesses. Ultimately,E-learning Applications have emerged as powerful tools that revolutionize the way people acquire knowledge and skills, reshaping the landscape of education.
Advantages of E-learning Applications:
Accessibility and Flexibility: Education applications give students the freedom to access educational materials and programs whenever and wherever they are in the world as long as they have an internet connection. By allowing for flexibility in schedules and learning styles, this accessibility allows students to study at their speed.
Cost-Effectiveness: E-learning reduces the need for actual classrooms, travel, and printed materials, saving both students and educational institutions a lot of money. This lowers the cost of high-quality education and increases its availability to more people.
Personalized Learning: Adaptive learning algorithms and data-driven insights are frequently used by e-learning systems to customize the learning process. To help learners focus on areas that require improvement, learners receive evaluations and information that are specifically designed for them based on their strengths and limitations.
Engaging and Interactive Content: To make learning interesting and entertaining, e-learning platforms use multimedia components, interactive tests, gamification, and simulations. This interaction helps students retain information and promotes involvement.
Self-Paced Learning: With e-learning, students can go at their own pace while studying the content. With this self-paced method, students have the freedom to go back and review previous material, spend more time on difficult material, and go through routine courses more rapidly.
Global Reach: Through the use of e-learning platforms, students from all over the world may access the same excellent educational materials regardless of where they are in the world. This reach throughout the globe encourages diversity in the classroom and cross-cultural understanding.
Continuous Learning Opportunities: Continuous learning is conveniently available through e-learning platforms. Even after completing a formal education, learners can still access educational materials, tools, and courses, enabling lifelong learning and skill development.
Real-Time Performance Tracking: Tools for tracking progress and performance evaluation are frequently available on e-learning platforms. Both educators and students may keep tabs on progress and performance, as well as spot any areas that could need more attention.
Immediate Feedback and Support: To help students assess their understanding and make adjustments, e-learning applications can offer immediate feedback on quizzes and exams. Numerous platforms additionally assist in forums, live chat, or virtual classrooms, encouraging engagement with teachers and peers.


Why Would You Choose a Company to Develop an E-Learning App?
Choosing an e-learning app development company is a strategic decision that can significantly impact the success of your e-learning initiative. Here are compelling reasons why partnering with an e-learning app development company is crucial for achieving success:
Expertise and Experience: Companies that specialize in developing e-learning apps have the knowledge and experience to produce cutting-edge and efficient e-learning solutions. They are knowledgeable about the complexities of instructional design, educational technology, and user experience. As a result, they can make sure that your app is built to maximize learning outcomes and engagement.
Customization and Scalability: The app can be customized to meet your unique demands and specifications by an e-learning app development business. They can develop a scalable system that changes as your user base and content expands, regardless of whether you're a business, company, or educational institution.
Cutting-Edge Technology: These businesses keep up with the most recent developments and trends in technology. They can use cutting-edge features and tools to build a more immersive and customized learning environment, such as augmented reality, virtual reality, and artificial intelligence.
User-Focused Design: User experience and interface design are given top priority by e-learning app development companies. To make sure the app is logical, user-friendly, and appealing to the target market, they perform user research and usability testing.
Content Management System (CMS) Integration: A content management system must frequently be seamlessly integrated with powerful e-learning software. E-learning software development businesses may create a CMS that makes it simple to create, organize, and update content, giving you the control you need to effectively manage your educational content.
Quality Assurance and Support: To make sure the app runs without a hitch, qualified e-learning app development businesses perform extensive quality assurance testing. As problems may develop after the app's release, they also offer ongoing support and upgrades.
Compliance and Security: An expert app development business will make sure that the app complies with the necessary compliance and security requirements if your e-learning app deals with sensitive data or must adhere to special legislation (such as data privacy laws).
Time and Cost Efficiency: By partnering with an e-learning app development company, you can save time and resources. They have streamlined development processes and a team of experts who can efficiently bring your app to life, avoiding costly mistakes and delays.
Focus on Core Competencies: You can concentrate on your core skills and educational content by outsourcing the construction of your e-learning app. It allows you to focus more time and effort on producing excellent instructional materials while the development business takes care of the technical details.
Competitive Advantage: A feature-rich, well-designed app created by a reputable company can provide you with a competitive edge in the crowded e-learning market. A distinctive and interesting app can draw in more users and establish you as a market leader in e-learning.
Why Edutik?
Lilac launched a new e-learning software called Edtuik. One can get several e-learning apps on the market, but if you are looking for a customized solution, i.e., a customer-centric, top-quality e-learning app for every kind of business that you can imagine in your mind, Lilac's Edutik is there to serve you, hear your needs 24*7. It has an alluring dashboard as well as multiple payment modes and gives you the most advanced reports with a full-fledged overview of your business.
Planning to Create an E-Learning Platform for Your Business?
Lilac Infotechshould be your first choice if you want to expand your business and attract lots of clients. You will continue to get the same services even with the additional distinction of app ownership. Based on the criteria you establish for your business, our team will create an app just for you with the key elements that work the best. Building an e-learning platform requires a lot of resources, including time and money. Lilac will help you create the most effective e-learning platform using our cost-effective solution, Edutik. The essential components of the customized app that best meets your needs for your business will be delivered to you by our team. Imagine the impact you could make by providing accessible and personalized learning experiences to students of all ages. So, let your creativity flow, your ideas take flight, and embark on a path of transforming education for the better. The time is now to make your mark in the world of e-learning!
---
---