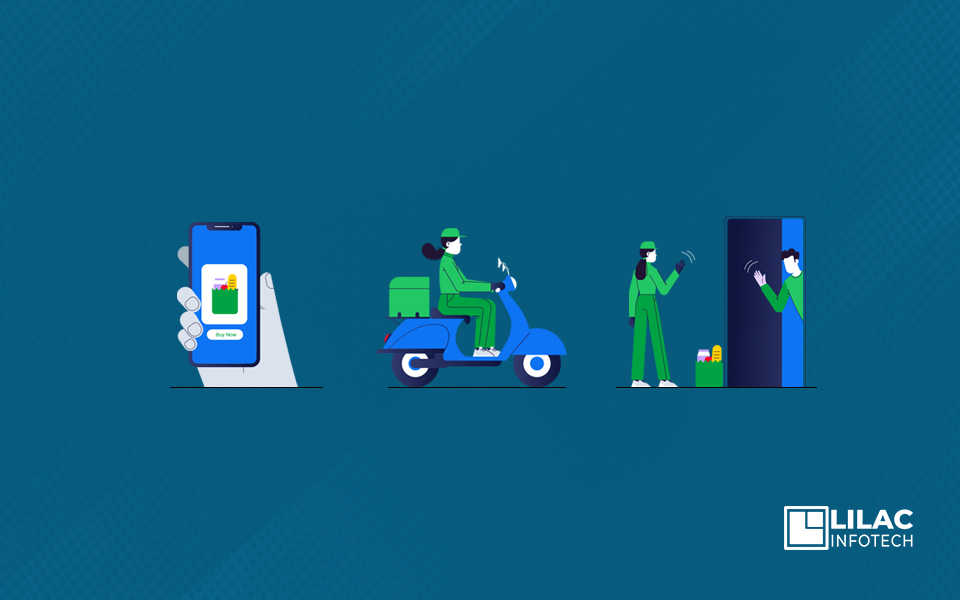 ---
Food is one of the basics of our lives. This is one of the many reasons that the restaurant business is still booming. In addition, consumers are always searching for varieties and alternatives when it comes to food, so healthy food will always be in high demand. If you own a restaurant or want to start a food company, online food ordering software creation will help you achieve success.
With food ordering and distribution apps like Zomato, Ubereats, and Swiggy offering online food ordering convenience from anywhere and at any time, the restaurant industry has expanded dramatically in the last few years. Often several restaurants are now coming up with their own food delivery systems to save on prices and boost customer loyalty. A food ordering app can be very useful in this business field.
Food Delivery Applications can help the food company expand in more than one way. Any of the advantages of making your own food delivery app include enhanced market scalability, improved user interface, ease of payment (online), greater reach, instant service, regular help, and others.
Is there a need for a food delivery app?
The online grocery buying websites market is booming these days. Food is one of our fundamental needs, and no one wishes to be able to buy food online to collect it at their doorstep. In reality, this is one of the most profitable business ideas for today, even more so if you already have a physical restaurant but don't deliver home. Here's how you would benefit from an online food ordering scheme.
Other than that, the Online Food Order and Distribution App can also be a nice choice for those looking for a trendy business concept in this market. For example, you can get a Best Food Delivery App or a website where you can connect all restaurants in a specific region or city to collect food orders online. Then on behalf of these restaurants, you will deliver home delivery. Famous food sites like Zomato, Swiggy, and Ubereats are working on the same principle.
How Food Delivery helps grow your business.
Flexible Model: If you've fitted up to your restaurant with the right food ordering tools, you can quickly scale your company to whatever size you can manage. Just have some traffic and you've got a lot of company. It's as plain as that.
Customer Support: You can easily monitor your customers online within your Food Ordering App and answer their concerns/issues. Dedicated sales personnel will be able to manage all orders and fix customer concerns on the go.
Hassle-free Ordering: When you take orders over the internet or call, there is a risk that you will misunderstand orders and end up screwing up client relationships. But you don't get anything written and simple for the Food Ordering App.
24*7 Support: With the Food Shopping App taking care of deliveries, you can take orders even though you're sleeping. Customers around you could put an order to process it at any moment. More orders, more sales, and more business.
Improve your customer base: For all digital, you're going to have a convenient customer list. You may email the market to your loyal customers with new deals, new dishes anytime you like. It helps to develop the brand, too.
Give your Competition a tough time: If you have a strong Food Ordering Program and a Digital Marketing Strategy in place, you might smash the competition. Next door, your rival can just wonder where you've got all the clients.
Some Features in a Food Delivery Application
Based on your specifications, your food ordering application should have all or any of the features mentioned below:
Vendor Panel Features:
Registration
Menu Management
Offers Management
Order Management
Payments Management
User App Features:
Registration
Food Search
Food Tracking
Order Placement
Payment
Admin Panel:
Restaurant Management
Customer Management
Order Management
Payment Management
Settings (Display, features, etc.)
Reports & Analytics
Delivery Boy Features:
Registration
In-app Navigation
Notifications
Wallet & Payments
In-Call Calls
Additional Features:
Live Tracking
Integrated Maps
Wishlist & Cart
Social media Login
Creating a Food Delivery App
Developing is not only about strong coding and design skills, it also needs business expertise to be able to build exactly what the consumer wants. The production process for the Restaurant App is planned for that particular purpose.
Steps included in developing a Food Delivery App:
1.Planning: In this process, we collect ideas and knowledge from customers, do market analysis from our end, and create a comprehensive strategy for the creation of the app/website.
2.Design: It includes the design of the UX, architecture, pages, and structure of the app interface, in compliance with the plan previously developed.
3.Development: The development process includes the coding of the various functions of the aspects of the food delivery application.
4.Testing: Layout and coding are combined to form an interface that is, then checked through several processes for defects and bugs.
5.Delivery: The final product is delivered to the client or hosted on a live platform to enable owners to interact with it and find more bugs if any.
Cost of Developing a Food Delivery Application
---
---