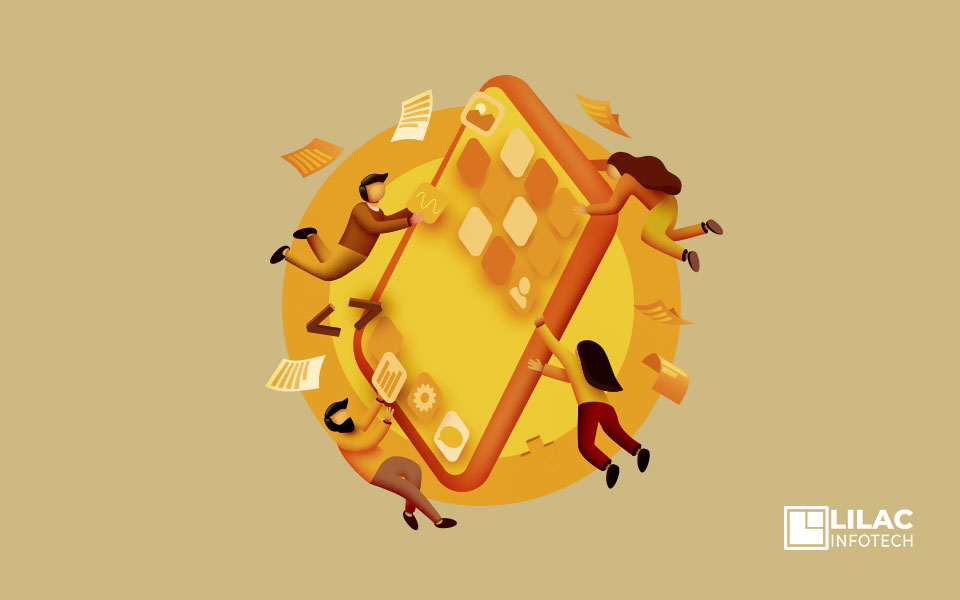 ---
Yes, we always wonder how the world is moving fast with technologies and introducing new ideas to the world, landing new business successfully. Right? The whole world can be made as a marketplace for our business today that much the growth is. In this busy competitive market, we are easily doing many things in day today life and make money with the fastest and simple business. How this is possible or what are the main reason for this business growth and getting everything available from our place? It's only because of simple and effective Mobile app ideas for your business environment. Come on let's discuss the impacts or some important reasons for mobile apps in the modern business environment.
Is a mobile app important for your business?
Most valuable question. Mobile App Development means the creation of computer programs using mobile devices like smartphones, smartwatches, and tablets. Hence we are going into a digital era, to grow your business and to make your own place in the market a mobile app helps a lot. There are more than 250 million mobile app downloads up to now. The Easiness of managing operations getting more users from everywhere and delivering, and providing services to them makes easier by mobile app development.
The best feature that drives your business by a mobile application
More than 50% of people are using mobile apps for their daily needs, so you can showcase your business to them by the online presence and make money by that users.
This makes more business sales and global marketing
More customer experience and thereby brand awareness
Improved efficiency and client loyalty
Making the easy process of buy, selling, and delivering service
Best on-time communication
Problem-solving can be done easily in the business
Improved customization and simple to use
Security and flexibility
How mobile apps can rule over as a modern marketing tool?
For marketing your business definitely you need a tool. The modern style of marketing is new and different for every enterprise. For brand development and more sales, marketing helps very much. Competition has increased a lot for every stream so companies use different and strategies and do mobile app branding.
A user will contact and interact with your mobile app by visually with images, videos, pop up, demo and reputations. Mobile apps can indirectly interact with users and attract them to your brand. A mobile app can hold your customer to your product and brand by its user-friendly design, informative content, and instant chats. Your app development can define different types like
App as tools- Apps offer functionalities that help to do various tasks. It gathers customer data and analyzes their requirements
Gaming tools- Gamification works for engaging the users and making customers make their own products with existing options in the mobile app.
Apps for designs - capturing user attraction by great design. This pleases the user eye to stay their app and by making business deals.
Apps used for sales- Focused on selling goods. Promoting their goods and selling online. Great platform to make sell the products profitably.
Apps for social instruments - Developed for branding and promoting company name, thereby providing services to loyalty users.
Important reasons for mobile apps in the modern business environment
1. Improved sales growth
Building a mobile app for your business brings more sales and profits to you. It depends on the range of audience. Mobile app development for business not only brings you more sales but also making a way to reach new customers. With your mobile app, you can give offers and promotions, Bonus and push notifications. By installing your mobile app you can directly contact users. People can buy products with your mobile app making more profits. Today lot of Mobile app development companies making money mainly through their mobile app. online payments can be done through this making it easier for customers and owners.
2. Doing valuable analytics
By mobile app, you can do various analyses like useful information. You can analyze which product is moving and what are the likes and dislikes of users, how may time they are spending on your app. what are the functions you are using by your app. By analyzing their interactions with the app you can calculate what are the things you should improve in your sales and business with the app. Understanding your customers gives you more clarity in your business. Data analytics is very important and part of your successive business.
3. Social media accessibility
Mobile applications can connect social media by share and like buttons, social media icons. By doing this you can showcase your brand making you more popular on your business by social media. Social media are a great platform for promoting and marketing business nowadays. With the mobile application, it would be easier to connect with social media for a user. Mobile app trends are also changing so new patterns of sales ideas and social network connections give a great impact on the business.
4. Direct market channel
Finding new customers and engaging them in your products is a complex thing in digital marketing. Choose the right audience and the right medium makes your business more growth in marketing. The mobile app makes all the solutions for this. The mobile app contains different functionalities like news feeds, search features, push notifications, etc. These factors interact with customers in the way they need. To get the best outsource from business a better mobile app development agency can help you. Dedicated app developers will develop the app in a cost-less and effective way.
5. Cost reduction
Finally, the main thing for your better enterprise. The mobile applications can help to cut the cost and increased profitability. This will work for small businesses well. A business can sustain only when you get more leads and continuous interaction of customers with new sales deals. So to work on it, a mobile app can do all these things in a single. You don't need to focus on more steps likes hiring for sales teams or marketing people. By monitoring mobile app analytics and working on it makes you more business ideas and strategies to work more. This will reduce your investment in promoting business which really helps you.
Final Thoughts
Mobile technology is daily developing and that how the users also. A lot of people are going back with smartphones for various needs. So why should your business also move towards the latest technologies with mobile apps? Different business fields need a different platform to showcase their growth but all over a mobile app development helps you in many ways.
To create your own mobile app for business and by standing digitally well is your mission, we help you. Lilac InfoTech who are the best app development company that will full fills your needs with the best offers. The dedicated app developers in our team will successfully make your mobile application with a tech suite.
---
---