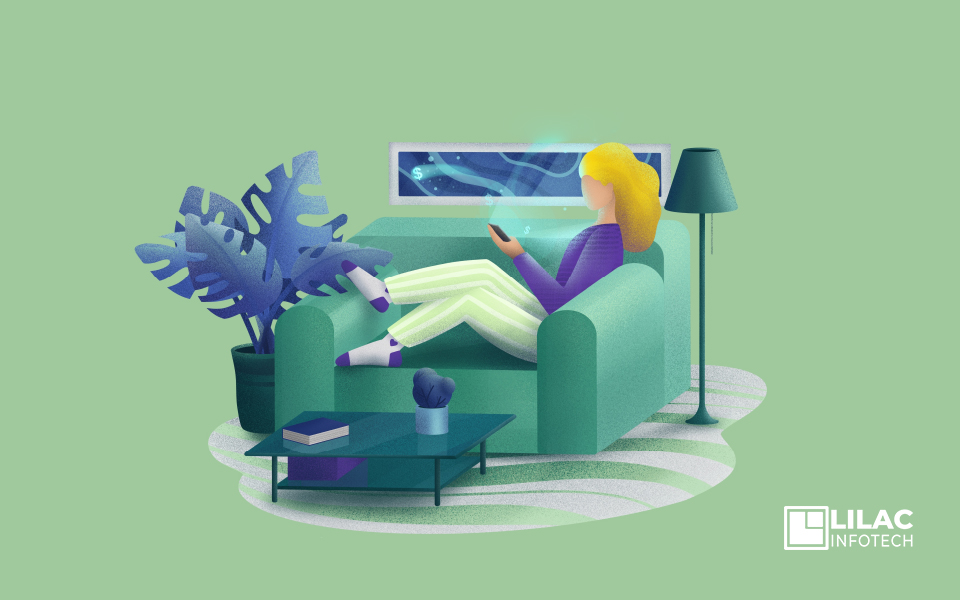 ---
Most of us get business ideas, right? Randomly we think of something which we feel might get us some money, but how often have we taken the idea seriously? The answer must be NEVER.

Abandoning a concept is a wrong idea. The mobile platform is the most efficient approach to work on your company concept. Apps are simply the finest technique to create your brand in an era where mobile app development interconnects all elements of our life. An app is also a natural marketing tool.
Why Do Businesses Need Mobile Apps?
A lot of individuals use mobile devices to access the internet.
The percentage of internet time spent on mobile devices has surpassed 50%.
Industries have already heeded the warning and begun to become mobile. Take a look at the industries that have embraced the world of apps. Mobile applications enable them to sell more efficiently and reach out to clients more effectively.
Let's all admit to the fact that none of us in our worst nightmare saw a LOCKDOWN coming up anytime. We were all thrilled by the idea of summer holidays when we were kids; we could all just play and roam around. Even after growing up a well-planned trip is refreshing. It is also a much-needed break from our oh-so-busy schedule. But the lockdown is not something we needed or were prepared for. Though everybody may have enjoyed the initial days, later we all started finding ways to work or new ideas for business.
Some of the world's largest economies are hit by the severest effects of the pandemic and the lockdown. And let us all bear the truth that we might not go back to normal any time soon. The businesses will also take the time to go back to the old normal.
But to see the positive side, this is also a great opportunity for some great mobile app development approaches. If you are thinking of a Mobile app idea for your start-up you might want to scroll down:
Best Mobile App Ideas 2022
Learning or Education Apps
A sector that was majorly hit by the pandemic is the educational sector. Though every other sector is trying to recover the educational center is still struggling as the schools and colleges are nowhere close to re-opening. Most of the board and universities have aided E-Learning into their curriculum. As the best start-up, you can launch an application with some of the advanced features that connect the best teachers and students on a digital platform.
Most of us have been in one of the following situations at some point in our lives. We hear a song and like it, but we forget the lyrics and are left with only the humming or a snippet of the song. Otherwise, some words come to us unexpectedly, and we have no idea whose music they are from. In both circumstances, we rely on our memories to discover the music.
So, wouldn't that be a great idea for a mobile app? An app that can identify music just on a few words or humming. It will be much better if you can sing the section you are familiar with, and the software can identify the song and artist.
The lockdown has affected our lifestyle and how. Staying healthy is the key and for that healthy food is a thing people choose now. People could not stock up the essentials or vegetables for their daily use. This can be utilized as a chance to launch a start-up: a grocery delivery app that can easily deliver your grocery as well as necessities.
Cities are like magnets that draw people in. The city, whether developed or emerging, is a highly-populated area. It elevates space to the status of a city's most precious asset. We've come up with an app concept for locating a parking place in the city. It will have some preliminaries, such as establishing parking spots, defining peak hours and congested regions, and so on.
The software may use Google's GPS and traffic monitoring data, as well as other services, to find and recommend the best parking spots. Furthermore, the app can recommend parking early on the days of festivals, unexpected occurrences, accidents, or special events. This mobile app concept has the potential to capture many hearts by using the most recent mobile app developments.
The travel and tourism business has thrived during the last decade. The time also saw a surge in the number of mobile apps. Naturally, this resulted in the creation of mobile applications to aid with travel-related activities. The flight booking app is a popular app idea that has a steady market. People find it quite convenient to be able to book a flight at their leisure rather than having to stand in line at a travel agency. It has a lot of promise if you can add some other features like weather prediction and prizes and design a flight booking app.
When there is a need, Mobile app ideas develop. Because on-demand services are becoming more visible and appreciated, now is an excellent opportunity to introduce innovative ideas into the on-demand business. Creative ideas don't need to be out of the norm. The best ideas, such as laundry app development, are ones that can make people's lives simpler. Who wouldn't enjoy having their laundry done for them in today's hurried world? By developing a laundry app that picks up laundry and returns clean garments, you will be providing a vital service to many people!
Since the situation is still very serious and traveling is restricted many people are home-away, and their main requirement is home-cooked food. A food-delivery app is one of the highly used applications in lockdown times and later also. And one most attractive feature of a food-delivery app in this pandemic situation is the supervision to maintain personal hygiene during the preparation of food and also contactless delivery guidelines.
If you own a car, you are aware that car washing may be a chore. An automobile should be washed every week or two. A vehicle owner may either wash their automobile at home or take it to a car wash. Both of these involve time and cannot always be done when it is convenient for them. So, how about you create a car wash app that allows consumers to book car washes directly from their smartphones? It's guaranteed to be a smash if you can give some unique features and excellent service!
Another app that was highly downloaded through the lockdown and even later was the fitness app. People today have become so health conscious that even during homestay they try their best to maintain fitness. Since the gyms and fitness centers are still not very safe for normal working people still prefer online fitness training. This is a great opportunity for start-ups to connect fitness trainers and fitness freaks. Like they say 'The Greatest Wealth is Health.
An app that delivers fuel seems convenient, doesn't it? We've all been in circumstances where we got stopped on the road because we ran out of gas. It's a difficult predicament to be in!
If you needed to get someplace quickly, it may derail your plans because finding the nearest fuel outlet and replenishing the petrol tank is a difficult operation. Fuel delivery applications provide a simple way to do this. It allows individuals to use their cell phones to schedule gasoline delivery to any area they want. Fuel delivery app development is a terrific concept if you have an interest in an industry with a lot of potential and little competition.
Field sales are one of the most effective and time-tested marketing tactics. It is, however, not an easy field. When a field salesman has too many things on hand, their productivity and peace of mind suffer. So how about a mobile app concept that simplifies their lives? These can include daily goal apps that allow field sales agents to record and update their objectives, order management apps that allow them to handle their daily orders and ensure delivery, and agent tracking applications that allow agents to swiftly cover their whole assigned territory. The field sales app development business is large and has a promising future
Health is something that we all value the most, and in these pandemic times, the need to safeguard ourselves has only increased. Even if it is a cold, minor fever or cough people seek medicines, but it is difficult to go out and consult a doctor or visit a pharmacist and buy medicines considering how risky it can turn out to be. This is a great opportunity to broaden the window and consider using this as an opportunity to make the process easy by building a doctor booking app and connecting the best doctors and trustable pharma stores.
Event planning and management have grown in prominence in recent years. Most events, large or small, now use an event management service to ensure their success. Isn't it an excellent idea to have an app that helps them organize better and accomplish their work more effectively? The program may help them plan everything to the minute, cooperate more effectively, and organize every work as efficiently as possible. Building an event management software may offer tremendous value to organizations as new event management companies emerge and event management becomes a mainstream profession.
Social media apps like Facebook, Twitter, Instagram, and WhatsApp became a part of everyone's life during the pandemic people who have never used any social media also started using these platforms since staying connected in these difficult times is what everyone needs. Even on normal days, we spend most of our time on social media. The latest study declares that social media applications had the highest number of downloads compared to other domain applications.
People spent a lot of time with their families due to lockdown, be it in person or virtually.
Readers have an endless supply of books to read. When it comes to choosing their next read, they are constantly perplexed. The majority of the time, people make their decision based on book reviews. However, finding genuine reviews is difficult. Our next app concept is to make it easier for readers to locate book reviews. An app that allows users to submit a photo of a book cover and search for reviews. Isn't it fascinating? The program would collect reviews from well-known platforms like Amazon, LibraryThing, Goodreads, and so on. Users may use the app to compare reviews from numerous sources and make an informed decision about whether to buy or read the book!
Conclusion
To sum it all up the Mobile app development industry is providing the best opportunity to thrive in these difficult times also. The ideas discussed above might help you grow your business through a digital transformation or boost up your start-up idea. Thus, it's your time to buckle up and transform your idea into a mobile application.
Ideas, according to our knowledge, work in a chain reaction. One notion sparks another, and so on. So, use our Mobile App Ideas or let them spark your imagination for new ones. We are a prominent mobile app development business with over a decade of expertise in transforming unique ideas into apps. We have experience developing e-commerce apps, flight booking apps, fuel delivery apps, restaurant apps, and other similar applications. If you have a great app concept and want to bring it to life, contact us and let us assist you.
---
---