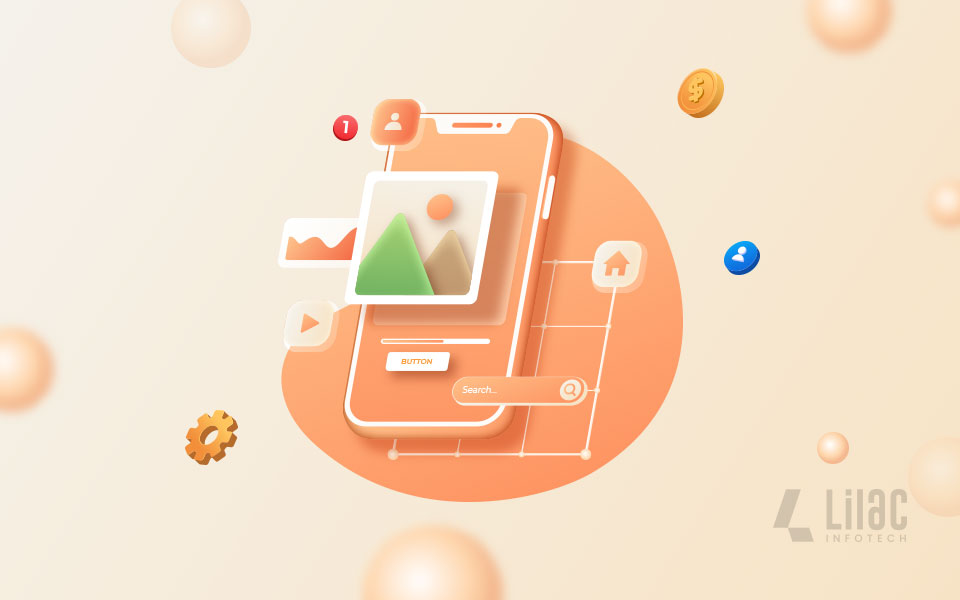 ---
Table of Contents
What is Mobile app development?
Mobile App Development Process
Top Mobile App Development Trends
Top Mobile app developers in India
To Conclude
The mobile application development business is ever-changing. Advances in technology, consumer demands, and a variety of other factors all have a direct impact on mobile app trends.

Keeping up with the newest trends is undoubtedly the most important part of success in this industry. As a member of the Forbes Technology Council, I'm continuously looking for trends and talking with other tech experts about how to get an advantage. To better serve their clients, mobile app developers must stay up-to-date with emerging developments. The same is true for content creators and developers, who are eager to take their businesses to the next level through mobile development.
Are you ready for the developments in mobile app development that will occur in the coming year?
What is Mobile app development?
Mobile app development is the process of creating software applications specifically designed to run on mobile devices, such as smartphones and tablets. These applications, commonly referred to as "mobile apps," serve a wide range of purposes, from entertainment and communication to productivity and utility. Mobile app development involves several stages, including conceptualization, design, development, testing, and deployment.
Mobile app development requires collaboration between different roles, including project managers, designers, developers, testers, and sometimes marketers. The choice of development approach (native, hybrid, or cross-platform), technology stack, and tools can significantly impact the development process and the final quality of the app. It's also important to consider factors like security, data privacy, and user engagement when creating mobile apps.
How to Develop a Mobile App?
To develop an Mobile App, you need a step-by-step approach that will allow you to create mobile apps rapidly. There are three critical steps:
Mobile App Development Process
1. Realize the requirement
The development of a mobile app begins with an app concept. However, you will need to do a lot of thinking to come up with the ultimate list of features you can give your consumers. You can begin with the fundamental parts and then take note of other less important qualities as they are presented to you. Who knows, you could surprise yourself with ideas you never thought you could put into action. Sit down with your staff and solicit any suggestions they may have.
2. Customize the Product
The plan serves as the foundation for all project development. Now that you have a strategy in place, you can start translating those aspirations into attainable objectives. Begin the analysis and planning by explicitly describing how you will utilize the functions to generate use cases, and establish a list of functional needs in the meanwhile.
This will assist you in developing a product roadmap. You will be able to put that approach into a step-by-step procedure that you can then turn into priorities and group into delivery milestones. You should also establish your minimum viable product, which will help you decrease expenses and prepare for the initial launch.
3. Check the Product
After successfully designing an application, it is critical to guarantee that the application's quality is up to par. Quality assurance is an important stage in the mobile application development process since it impacts the app's dependability, stability, and usefulness. There are a lot of issues that must be addressed by following a thorough testing cycle specific to each application to provide an all-inclusive testing approach.
Manual testing and automated testing are the two primary forms of testing. It is dependent on the type of application whether human testing is required or automated testing can provide correct findings.
Top Mobile App Development Trends
1. Internet of Things (IoT) App Integration
The Internet of Things is not a new notion. However, the surge in mobile penetration across a wide range of industries and categories has produced what appears to be an infinite number of opportunities for the Internet of Things. People have become accustomed to utilizing technology to better their daily lives.
The Internet of Things (IoT) refers to a developing network of Internet-connected gadgets that provide users with ease and automated control. The emergence of IoT and mobile app development is exemplified by smart home technologies. Mobile applications may be used to remotely change a home's temperature, lock or unlock a front door, and link to home security systems. Refrigerators and other household appliances may be linked to smartphone applications as well.
2. Apps for Foldable Devices
Mobile phones have unmistakably evolved during the previous decade. Touch displays with a single or no button have dominated the market. Foldable gadgets, however, have begun to make a comeback in recent years. Foldable gadgets such as the Samsung Galaxy Fold, Huawei Mate X, and the redesigned Motorola Razr have been released.
Depending on the user's wishes, these smartphones fold to compress or increase the screen size. For example, a user may make a phone conversation when the gadget is closed yet watch a movie on a bigger screen by unfolding it. When designing or upgrading an app, resellers and content providers must account for these devices. The concept is that an app's display should shift fluidly as the screen folds or unfolds. Foldable handsets now account for only a fragment of the overall smartphone market share. This, however, will alter in the coming years.
3. 5G Technology
The 5G deployment will have a significant influence on app patterns in 2023. This technology is set to transform the way mobile apps are used and generated for developers, resellers, and creators. What does this entail for the creation of mobile apps?
The speed and efficiency will be greatly improved. 5G is predicted to reduce latency by a factor of ten while increasing network efficiency and traffic capacity. 5G will be up to 100 times quicker than 4G, depending on the mobile network operator. The spread of 5G will eventually improve the functioning of mobile apps. This allows developers to add new features to apps without impacting the app's speed. During the testing and development stages of constructing an app, developers and mobile app resellers should also leverage 5G network speed.
4. Development for Wearable Devices
Wearable technology has also been on the rise for some years. This isn't always a market breakthrough. Smartwatches, trackers, and fitness bands have been around for a while. Wearable gadgets, on the other hand, have yet to realize their full potential.
5. Beacon Technology
A wide number of sectors have embraced beacon technology. Beacons can offer additional functionality to practically any mobile app, from retail to healthcare and hospitality.
In 2013, the first mobile app beacons were created. However, substantial advances in this technology have been made in recent years. Here's an example of how beacons may be used in conjunction with mobile apps. Assume you're a mobile app reseller who creates applications for merchants. Your businesses can put beacons in their stores that utilize Bluetooth to communicate with a user's smartphone if the app is installed on their device. When a user passes by a beacon, they may be alerted immediately about a promotion or special on items at that business.
Beacons may also be used to track customer activity in stores. They can determine if a user spends a large amount of time in a specific aisle. The app can automatically send a push notification to entice a sale of those products at a later date. Proximity marketing is the primary advantage of beacon technology. In the end, it improves the client experience within a mobile app.
6. Mobile Commerce
I can't compile a list of app trends for 2023 without discussing mobile commerce. This trend dominated in 2020 and 2021, and it will continue to thrive in 2023. Everyone appears to be using mobile apps to enhance income. There is a lot of money to be earned in this market, from huge stores to individual content makers and personal branding.
Mobile eCommerce functionality is a popular feature for mobile app resellers to highlight during client presentations. Every day, it seems like another company releases a sales-boosting app. We're not quite there yet, but we're getting close to the point where a mobile commerce app is required to compete. Every individual and business that sells online compete with behemoths such as Amazon.
7. Artificial Intelligence (AI)
Artificial intelligence and machine learning have long been used in mobile app development. However, we have barely scratched the surface of how these powerful technologies may be applied. When we first think about AI, we think of virtual assistants like Siri or Alexa. However, the use cases for app development go well beyond this. Apple announced Core ML 3 last year. This latest edition of the iOS machine learning framework was created to assist developers in incorporating AI technology into their apps.
AI features that may be included in a mobile app include Image recognition, Face detection, Text and image classification, Sentiment recognition and classification, Speech recognition, Predictive maintenance. Artificial intelligence can make apps smarter and, as a result, increase performance at all levels. AI will transform the way apps are produced in 2023, from the backend development process to the frontend user experience.
8. Mobile Wallets and Mobile Payments
We've already spoken about the importance of mobile commerce in app development in 2023. However, the way individuals pay with their mobile devices is changing as well. Mobile wallets such as Apple Pay, Google Pay, and Samsung Pay are on the rise.
The mobile wallet market is expected to more than double in the next two years. Smartphone users are gradually but steadily embracing mobile payments. They're even using app features to make payments on linked wearable gadgets. In the next few years, all mobile apps must cater to mobile payment. In 2023, mobile wallets must be considered for app development. Every program that performs transactions should have wallet integration as a basic feature. That is not the situation right now. However, the rate of mobile money adoption in applications will increase dramatically in the future years.
9. Augmented Reality (AR) and Virtual Reality
In 2023, augmented reality will continue to grow. AR elements in mobile apps may be used for a variety of purposes. Pokemon Go blazed the door for augmented reality in mobile app gaming. However, AR applications for other apps have grown more viable in recent years.
The app uses augmented reality technology to display various hairstyles and colors immediately on the user's face. L'Oreal has also developed a virtual cosmetics app that uses augmented reality to show how makeup appears on the user's face. Google Maps, too, has brought out a feature dubbed "Live View," which allows users to see turn-by-turn directions in real-time on real-world pictures. The software can determine a user's location by aiming the device's camera towards buildings and street signs. While these examples may not apply to the majority of applications launched in 2023, there are several alternative methods to incorporate augmented reality into mobile apps. Workforce applications, for example, may leverage AR-based training programs to help employees learn.
For content providers, AR adaptation is a top app development trend. You may utilize this technology to be creative, similar to how Instagram and Snapchat employ face filters. Virtual reality is also causing havoc in the realm of mobile app development. This is particularly true with gaming apps. To improve the gaming experience of fully functional mobile apps, VR technology can link with phones, apps, and wearables. If you work in the businesses indicated above, these mobile application development developments in virtual reality and augmented reality cannot be overlooked.
10. Chatbots
Chatbots have been in use for over a decade. I recall my first encounters with these bots on AOL Instant Messenger in the late 1990s.
Chatbots have grown and gotten considerably more sophisticated over time. Due to customer demand, chatbots on websites have grown in popularity. It's quickly becoming the new gold standard in customer service. However, only a small percentage of the millions of apps accessible on the Apple App Store and Google Play Store employ chatbots. In 2023, this will change.
Since chatbots are powered by AI, their replies are becoming more human-like. We've already spoken about how AI will continue to grow, and this is one of the reasons why.
11. Superior App Security
Cybercrime is a threat to everyone. Nobody is safe, from individual content creators to multibillion-dollar corporations. When it comes to app security, you can't afford to take any shortcuts as an app developer. If you're an app reseller, you should make security a primary concern for your customers. Users of apps are fully aware of security dangers. As a result, individuals will think twice about revealing passwords or supplying critical information to third-party developers in the future. Developers will begin incorporating capabilities such as Sign in With Apple into mobile apps. Instead of having to fill out form fields with their name, email address, and password, app users can just establish an account and sign in with their Apple ID. Instead of having to fill out form fields with their name, email address, and password, app users can just establish an account and sign in with their Apple ID. These accounts are secured with two-factor verification, and Apple will not trace their usage.
12. Predictive Analytics
Another mobile app development trend will reshape the mobile app business. Predictive analytics can foresee events using data by employing technology for machine learning, AI, data mining, and modeling. For years, IT behemoths have used predictive analytics. Netflix is a good example. The website recommends TV shows and movies based on what users have already seen.
Predictive analytics will become more widespread in 2023, with a wide spectrum of mobile apps benefiting from it. The major goal of the app will be to improve the UI/UX. Examine how firms around the world are utilizing AI technology.
The goal here is that no two app users will have the same experience. Product recommendations and preferences will be displayed differently based on the activities and behavior history of each user.
13. On-Demand Apps
In 2023, on-demand mobile app development is expected to grow. Apps like Airbnb and Uber have demonstrated how effective these types of apps can be. Here are a few instances of how apps might revolutionize the on-demand industry:

Service for doing laundry
On-demand doctors
Tutors and coaches on the internet
Food distribution
Cleaning the house
Services for upkeep
On-demand fitness
Animal care
Barbershop and beauty parlor
The possibilities for on-demand apps appear to be limitless. As a mobile app reseller, this is a fantastic chance to expand your customer base. Your clients may add additional functionality to their apps by exploiting on-demand capabilities, increasing profitability for everyone.
14. Cloud Computing Integration
While cloud technology is not new, it has yet to reach its full potential in the mobile app business. However, this is a mobile app development trend that you should keep an eye on. Cloud computing offers numerous opportunities for mobile development, which will be capitalized on in 2023
Cloud storage technology has the potential to increase the performance of mobile apps at the user level. Apps, as opposed to saving data on the user's device, can store data and perform complicated operations in the cloud. This not only simplifies development processes but is also a cost-effective development option.
15. Instant Apps
Android Instant Apps first appeared a few years back. However, in 2023, we will witness an increase in consumption and development. Android Studio enables developers to create quick app experiences to boost app discovery. Users may test the software without having to install it. All they have to do is click the "try now" button.
Because instant applications have size limitations, they may not be a complete version of the software. However, these constraints may alter in the next years. App users want a better user experience. Allowing users to utilize an app without having to download it is a terrific method to do so. By creating an immediate app, Hollar, a mobile commerce app, was able to improve conversions by 20%. The immediate app accounts for 30% of their total Android traffic. If you're creating applications for the Google Play Store in 2023, you'll also need an immediate version.
Read More : How to Choose a Right Mobile App Development Partner in 2023?
Top Mobile app developers in India
1. Srishta Technology
Srishta Technology's mission is to be the firm alternative for everyone, including businessmen, with the idea of transforming the world and making their dreams a reality. Our mission is to help our customers achieve their goals through our tailored products and services. The mission of Srishta Technology is to provide a technological improvement approach. To have rigorous and standardized methodologies for the best IT approach by the most creative and effective facilities. We apply innovation to provide high-end IT solutions with new innovations/patterns.
so here we are, the One that trusts inconsistency, and we continue to work until we have the right outcome for the same budget and the time that we spend on the Project Contract. Since we care about the importance of your brand we care for what you are looking for. Our goal is to provide a technological development approach. To deliver the best IT approach by rigorous and organized methodologies for the most advanced and effective facilities. We apply innovation to provide high-end IT solutions across the new technologies/trends.
2. Lilac Infotech
Lilac Infotech has deep technical experience and competence in using the new software specifications. Our expertise has been developed to provide solutions that meet the needs, demands, and budgets of our customers. We are proud to still serve our first customer by positioning our customers at the center of everything we do. Lilac Infotech began as a team of two ambitious young people, but now provides the people who depend on us worldwide with an incredible user experience through technology. As technology experts, they build solutions that allow you to do things in a smooth and easy way.
3. Hyperlink InfoSystem
Hyperlink InfoSystem is a well-known mobile app development firm, which knows the necessary technological and marketing resources. The teams of Hyperlink InfoSystem pursue a high-quality and rigorous production approach. Hyperlink InfoSystem's production team designs flexible and tough software by balancing its business model and its accepted skills.
4. Peerbits
Peerbits is a multinational specialist software production organization that assists start-ups and organizations. Developers at Peerbits have innovative smartphone applications with a superb Benutzeroberfläche, like UX that takes responsibility for consumer satisfaction. Peerbits promote the mobile application's growth with a tailor-made touch to the software.
5. Sourcebits
Sourcebits is a leading agile software development company that follows the pioneering approach to business. Following full product lifecycle management, the Sourcebits Mobile Development Team creates killer UI design applications. Mobile apps that have a good user experience by fulfilling end-users needs are designed, tested, evaluated, and configured in source pieces.
To Conclude:
The creation of mobile apps is continually evolving. You won't be able to compete if you create apps today utilizing knowledge from two or three years ago. Mobile app market trends can make or break your project's success. You can take the 2023 mobile app trends as your bible as a reseller or mobile app development Company. This is how you may obtain an advantage in your market. All of your team's mobile app developers must be aware of mobile app development trends and incorporate them into the app development process. You don't have to incorporate every single trend into every app you create. However, you must have a broad awareness of how the industry is changing so that you can adjust properly.
Want to learn more? Request a free quote
---
---