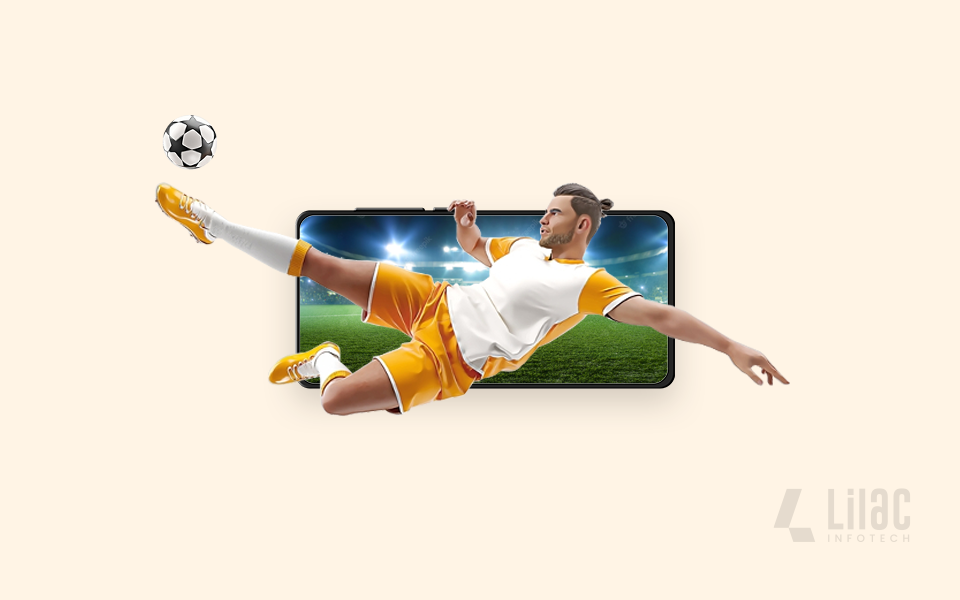 ---
The mobile gaming business is rapidly evolving and quickly becoming one of the most enticing and helpful sectors. In sum, the sector has exceeded every technological and commercial criterion.
Since there are over 3 billion online gamers globally, you can readily forecast the future potential of mobile game creation. As a result, it is reasonable to anticipate that the future of mobile gaming will be inventive and promising.
Learning about game development trends for creating an original and real-time strategy game will help you improve your experience and ability level to better handle the dangers and problems in the gaming business. Furthermore, you can comprehend the needs and habits of your potential game consumers.
Before we get into the 2022 mobile game development trends, you need to be aware of certain important statistics about the gaming business. Let's get started!
Trends in Mobile Game Development to Watch in 2022
If you want to invest in mobile game creation, you must stay up to date on the current developments. Here is an overview of the most likely mobile game development trends for 2022:
e-Sports are gaining popularity.
eSports is not a new phenomenon. For years, it has been a prominent trend in the mobile game business. It is a competitive game for both professional gamers and gaming amateurs.
Many people throughout the world follow and watch such sports, either directly on TV or through other live events, or by researching web resources. Live streaming services allow customers to view and play their favorite games in real-time. The global eSports industry is expected to be worth more than $1 billion by the end of 2021, representing a nearly 50% increase from 2020. Furthermore, it is expected to rise by more than $2 billion in 2022. As a result, we may anticipate eSports being a popular and consistent game development trend in the next years.
Socialization in gaming has increased.
Due to the obvious rise in usage of social media, mobile games have become more participatory. During the epidemic, the isolation and continual desire for interactivity have transformed smartphone gaming into a communal activity. According to Facebook, 38% of new gamers in the United States like to communicate while playing games, and many are beginning to choose online modes or multiplayer games over single-player games.
Game creators are benefiting from features such as guilds, social media integration, chat rooms, and so on. The key cause for the socializing of gaming is the growth in social media use and players. Marketers may also capitalize on gaming socializing by delivering prizes via the most recent social features.
Mobile Cross-Platform Gaming
Another trend that will affect the gaming industry in 2022 is cross-platform gaming. You can play cross-platform games on many platforms and systems. Players were unable to play across platforms due to a lack of funding and technology. However, by 2021, players had firsthand experience with cross-platform gaming via game codes.
Developers aim to create games that can be played on a variety of platforms, including PCs, laptops, mobile devices, and tablets. And because many programs employ cross-platform technology, users may find them easily.
Cloud Gaming on Mobile
Mobile cloud gaming, often known as GaaS (Gaming as a Service), teaches us the best ways to live. Furthermore, subscription models have a greater effect and motivation on a creator. After all, they can rapidly link some payment methods with the power of players.
As a result, if users wish to create some strength, such as incorporating a player or players with weapons in games like Fortnight, Candy Crush, PUBG, and so on, the players may act sensibly and quickly. Without a doubt, developers profit handsomely when their customers or clients switch on their PCs, laptops, mobile devices, and so on to explore faraway servers to play cloud games without the use of hardware.
Augmented Reality Gaming
AR, or augmented reality, gaming may be thought of as a method of merging game graphics and audio material, allowing users to watch and explore the game and its content and images in real-time. Unlike VR gaming, AR gaming makes use of the current surroundings to create a playing area.
In AR systems, specialist headsets are not required. Augmented reality games may be seen, accessed, and played on devices such as tablets, smartphones, and other portable gaming systems. Pokémon Go is one of the most complex instances of AR game apps that include GPS, a smartphone camera, a clock, and a gyroscope. It promotes a location-based augmented reality environment.
Wearable Technology
Wearables are electronic devices containing sensors that can analyze, identify, and share data with users in real-time. Fitness rings, bracelets, and smartwatches are examples of common wearable gadgets that make use of wearable technology.
Wearables are often connected to health and wellbeing, but they are rapidly gaining traction in the gaming sector as well. Players' gaming sessions can be tracked via a data-tracking wearable gadget. As a result, it improves the players' gaming experience by utilizing and evaluating this information.
Aside from maintaining records of everything from examining, evaluating, and supervising gamers' performance in real-time, you can employ wearables to improve streaming quality by utilizing multiple microphones that improve the whole gaming experience for game aficionados worldwide.
Hyper-Casuals Will Lead
According to Sensor Tower's Industry Trend Report, hyper-casual games dominated the video game landscape in 2020. The simple-to-play hyper-casual games allow gamers to unwind and enjoy themselves without straining their brains.
Some well-known examples include Candy Crush, Monster Strike, and Coin Master, which may rapidly become severe competitors for PC or console games. As a result, because these simple games require no special abilities, they are expected to grow in popularity in 2022.
Multiplayer Capabilities
Mobile games are more widely available than gaming consoles. Many individuals have access to them, and more will be able to use them in 2022. Mobile games are an all-inclusive, multiplayer function thanks to portable smartphone devices and the many games they provide.
We've seen a big demand for multiplayer games in recent years. Since eSports has become a worldwide phenomenon and games such as PUBG Mobile have grown in popularity, multiplayer gaming will become a powerful trend in 2022.
Mobile games are intended to serve a variety of functions, including mental refreshment, relaxation, and the enhancement of relationships and connections. Everyone wants to have a good time when playing online games with their family and friends. As a result, people seek out multiplayer games.
Multiplayer games enable individuals to interact with other gamers online and participate in in-game events by forming teams. Furthermore, with the emergence of social media, these games have grown in popularity. Because many users share one platform at the same time, mobile games become the essential item they want to explore.
VR (Virtual Reality) Gaming's Ascension
VR (Virtual Reality) provides players with an enthralling experience. VR headsets allow players to interact with items in a virtual environment. Although VR headsets are now expensive, technological advancements will cut their costs and make them more affordable for casual and frequent gamers. We may also anticipate that the general quality of visuals and VR games will improve over time.
When tech titans like Intel, Google, Sony, Microsoft, IBM, Amazon, Samsung, Nokia, Siemens, and Qualcomm have already begun to experiment with virtual reality gaming, the future appears bright. The global income generated by the sale of VR equipment, HMDs, and content demonstrates that VR will have a significant influence on mobile gaming in the future.
Gaming with Artificial Intelligence
Without a doubt, AI models provide superior gaming experiences. The AI in game creation might influence whether or not your game is a success. We've already noted how popular technologies like AR and VR are gaining traction. And the combined power of AR, VR, and AI will permanently transform the game business.
In 2022, we expect AI to have a stronger effect on gaming. AI assists game creators in creating more engaging games. AI is currently introducing NPCs with learning capabilities. NPCs may also use AI-powered learning to change their reactions, making mobile video games more difficult. According to industry research estimates, we can anticipate AI to continue to evolve in the mobile gaming arena.
Metaverse
The Metaverse has emerged as one of the most recent developments; yet it is unclear what it will entail for the mobile game business. This year, mobile gaming will be linked to the Metaverse, resulting in a more sophisticated in-game experience.
Different businesses, such as Nickel and Roblox, will also create their own game worlds. Startups intend to assist the Metaverse infrastructure by providing their users with resources to develop the Metaverse, such as realistic avatars. In summary, the Metaverse will be more accessible and the best place to be in 2022.
Discuss About Your Idea?
Do you want to build Mobile Game app development for Android or iOS?
NFTs and Games Based on Blockchain
Blockchain and NFTs are becoming increasingly important in the mobile game business. NFTs are similar to crypto currencies like Ether and Bitcoin. These non-fungible tokens are used to tokenize real estate, music, artwork, and so on. Blockchain, on the other hand, guarantees longevity through its consensus mechanisms.
As a result, NFTs may be used to tokenize game characters. They can also be used to tokenize trading cards in card games. Many well-known Metaverse games are also NFT games. The market for NFTs and blockchain games is rapidly growing.
Conclusion
We anticipate that the major game development trends will climb faster in 2022 than in prior years. As previously said, augmented reality and virtual reality will continue to emerge in the mobile game business. Furthermore, these technologies will have a significant impact on the future of mobile game production. As a result, we may anticipate a growth in the number of gaming fans in the next few years.
You can reach out to a game app development company who can help you get your requirements and get your app developed
---
---