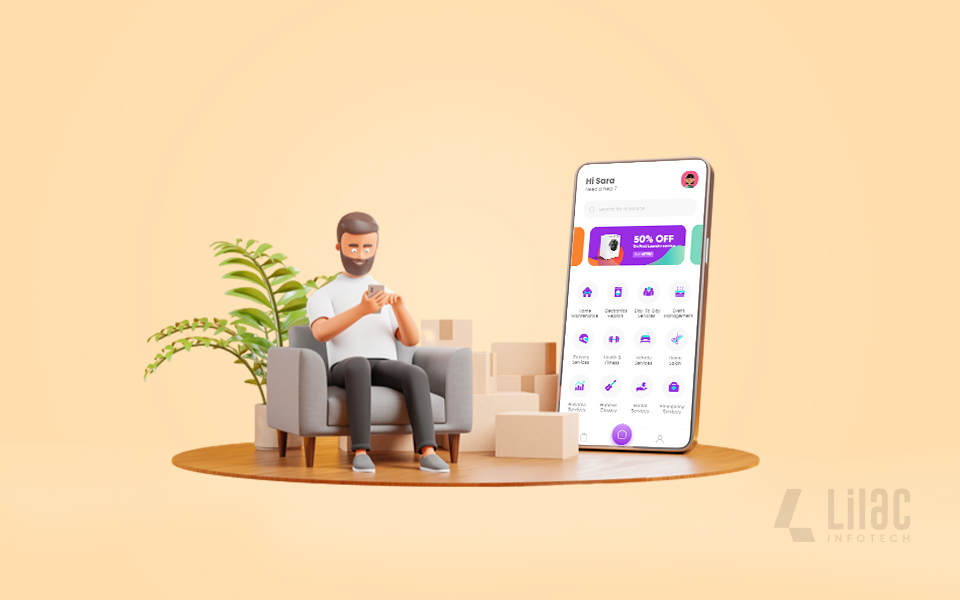 ---
The demand for mobile applications has rapidly increased in recent years, driven by the widespread adoption of smartphones and other mobile devices. People use mobile applications for various purposes, such as social networking, gaming, shopping, and productivity. The convenience and accessibility of mobile apps have made them a popular choice for personal and business use. Businesses are identifying potential mobile apps to reach and engage with their customers. This has led to increased investment in mobile app development and the creation of new and innovative mobile software across various industries. As mobile technology continues to evolve, the demand for mobile apps is expected to grow even further.
What is an on-demand home service app?
An on-demand mobile app is a middleman between clients and service providers. Instead of spending time and effort to achieve whatever they want, users would rather pay a modest sum for a simpler and more accessible process offered by these apps. These applications have gained popularity because they meet each person's demands.
On-Demand Home Service App: An Emerging Trend in the Future
The growth of on-demand home mobile apps is driven by several factors. Firstly, the increasing popularity of smartphones and mobile devices has created a growing demand for convenience and accessibility. Secondly, people are becoming busier with their work and personal lives, making it difficult to manage household tasks and find appointments. On-demand home apps solve this problem, allowing customers to easily book and schedule appointments with just a few taps on their phones. Thirdly, technological advances have made it easier and more cost-effective for businesses to offer on-demand services through mobile apps, thereby increasing the availability of these services to customers. As these trends continue to evolve, the demand for on-demand home service apps is expected to grow, making them a valuable tool for both customers and service providers.
Reasons for Investing in On-Demand Home Service App Businesses
Home maintenance applications provide numerous benefits to both consumers and service providers. These apps offer customers a quick and easy way to book appointments, access various services, and manage their household needs conveniently from their mobile devices. They also provide transparency and accountability, allowing customers to track their service's progress and receive real-time updates. Service providers benefit from increased visibility, a wider customer reach, and streamlined booking and scheduling processes. Home service mobile apps' efficient and cost-effective nature makes them valuable tools for customers and service providers.
Maximising Business Potential with a Home Service App: Advantages Explained
With each new one, the public's demand for innovative ideas keeps growing. We are all too busy going about our ordinary activities in the twentieth century to have much time for family time or home maintenance. We can obtain anything we require instantly, at our doorstep, with a simple click. In today's busy and fast-paced society, the desire for convenience is insatiable. There is a market for your on-demand delivery app as long as you deliver as you promised and with top-notch service.
Customer-centric solutions
The consumer is put first in developing on-demand solutions. Since several providers compete for the same service on the same platform, customers can choose any vendor based on their preferences for certain brands, budgets, etc. Customers may schedule appointments with any service provider at their convenience; after using the service, they may look over all the details and monitor the service representative's arrival in real-time on their mobile phones. Because of this, most users prefer using these services.
It is just too expensive in terms of money, time, and resources to develop a fully functional app. Building an on-demand app based on client demand requires a lot of work. It is a great concept to create on-demand home care software that satisfies the customer's basic desires and requirements.
App for home solutions offers great flexibility to users. With these apps, customers book and schedule appointments for assistance, such as cleaning, repairs, and maintenance. They easily choose the date and time that is convenient for them and even make changes to their appointments with just a few taps on their phone. Additionally, these apps allow customers to track the progress of their service, receive updates on the status of their engagement, and even rate and review the service after it has been completed. The convenience and flexibility provided by home service mobile apps make it easier for customers to manage their household needs and maintain their busy schedules.
Demand for on demand mobile applications significantly enhances businesses' lead-generation efforts. With their high visibility and widespread use, mobile apps provide businesses with a platform to reach a large and diverse audience. By incorporating features such as push notifications, in-app messaging, and targeted advertisements, businesses effectively capture the attention of potential customers and convert them into leads. Additionally, mobile apps collect valuable user data, such as demographics and purchase behaviors, allowing businesses to better understand and target the audience to the full potential of mobile apps; businesses achieve greater lead generation results and grow their customer base.
Want to build an on-demand home service software?
We are ready to build an innovative on-demand home service app for your business!
Wrapping Up
On-demand home service apps revolutionized how businesses offer their customers services by providing a convenient and efficient platform for booking and scheduling appointments. These apps help businesses reach a wider audience and streamline their operations. The ability to track progress, receive updates and rate services enhance the customer experience and build trust between the business and its customers. By embracing this technology, businesses see the vast potential of on-demand services and stay ahead in a competitive market. The benefits of on-demand home service apps are clear, and businesses that adopt this technology will reap the rewards for increased productivity, customer satisfaction, and overall business growth.
---
---