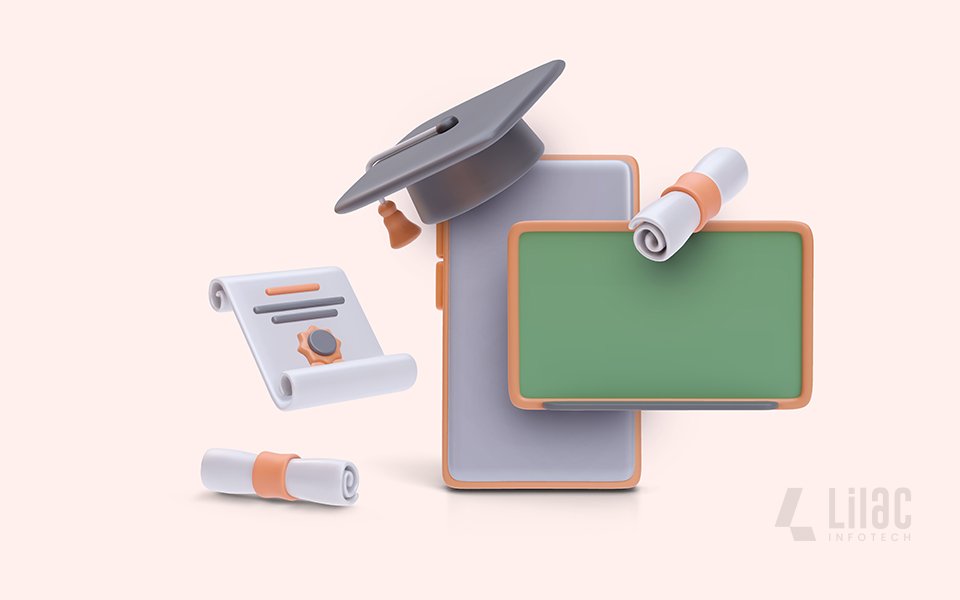 ---
Entrepreneurs are increasingly motivated to create unique mobile apps because they are the current cyber-environment's main audience and must survive in a competitive marketplace. The best approach to get business owners to communicate with their customers is through technologically based innovations.
Education is preparing to undergo a digital transformation and revolution like any other industry. The education sector is expanding quickly for a variety of reasons. Contemporary education has transformed our perspective on future learning approaches, transforming traditional e-learning methods. Everyone now relies on apps in daily routines, streamlining tasks and simplifying workloads. This prevalence of apps underscores their remarkable success, indicating that present-day entrepreneurs stand to reap substantial profits throughout their entire business journey as they invest wisely in this burgeoning landscape.
However, companies of all sizes require a credible and trustworthy Mobile App Development Company with in-depth knowledge of cutting-edge technology to create robust and appealing functionalities. To simplify things, we've compiled a comprehensive list of businesses that focus on creating Educational apps.
With a reputation for expertise in creating educational applications, Lilac Infotech emerges as a top competitor in mobile app development. Lilac Infotech has established itself as a leader in creating top-tier educational applications that meet the changing needs of contemporary learners by putting a strong emphasis on providing cutting-edge solutions. The company is a prominent technology IT industry that provides various IT solutions and services. Founded in 2018, the company is headquartered in Kerala, India. With a strong emphasis on innovation and client satisfaction, Lilac Infotech has established itself as a reliable partner for businesses seeking digital transformation and technological advancement. The company's expertise spans various domains, including mobile app development, web development, and software solutions. Lilac Infotech continues to impact the technology industry significantly through its skilled team and customer-centric approach. The company makes a substantial contribution to the development of e-learning by creating applications that reimagine how information is learned and shared by leveraging their technical skill and creative insight.
The company was established in 2009 and is headquartered in Pune, India. Redbytes stands at the forefront of app development firms, boasting unparalleled expertise in crafting applications across diverse industry domains. They are fueled by a proficient team of app developers who constitute the company's core strength. Leveraging years of experience, knowledge, and insight, they fearlessly tackle significant challenges.
Their guiding principle revolves around achieving a blend of sophistication and simplicity. Redbytes addresses every intricate client requirement from design to development to ensure absolute customer contentment. Beyond iOS and Android apps, their prowess extends to crafting IoT-powered solutions, enterprise mobility solutions, and mobile games.
QBurst is a technology consulting and digital solutions company founded in 2004. Headquartered in India, QBurst has established itself as a prominent player in providing various services, including mobile app development, web development, cloud services, data analytics, and more. With a global presence and a team of skilled professionals, QBurst has been recognized for its innovative and tailor-made solutions that cater to the evolving needs of businesses across various industries.
Hyperlink InfoSystem is a well-established company in app development and technology solutions. Founded in 2011, the company is headquartered in Ahmedabad, India. With a solid foundation in mobile app development, web development, and other digital solutions, Hyperlink InfoSystem has gained recognition for its commitment to innovation and quality.The company has a global presence and has successfully delivered various projects across different industries. Their team of skilled developers, designers, and tech experts work collaboratively to provide cutting-edge solutions to their clients. Hyperlink InfoSystem's dedication to staying updated with the latest technologies and trends has enabled them to create impactful and user-centric applications for various purposes, including education, business, entertainment, and more.
IndiaNIC Infotech is a prominent IT solutions company that offers a wide range of services, including mobile app development, web development, and digital transformation solutions. Founded in 1997, the company has become a significant player in the technology industry.Headquartered in Ahmedabad, India, IndiaNIC Infotech has a global presence and serves clients from various sectors, from startups to large enterprises. With a team of skilled professionals and a proven track record of delivering innovative and impactful solutions, the company has garnered recognition for its contributions to digital transformation and software development. IndiaNIC Infotech's commitment to providing cutting-edge technology solutions has earned it a reputation as a reliable partner for businesses seeking to enhance their digital presence and leverage technology for growth.
Founded in 2008, The NineHertz has firmly established itself as a prominent player in the technology domain. Headquartered in Cincinnati, Ohio, the company operates as a dynamic hub for software development, mobile app development, web design, and digital marketing services. With over a decade of experience, The NineHertz has a reputation for delivering innovative solutions catering to a diverse clientele spanning various industries and geographies. Their commitment to quality, creativity, and client satisfaction has propelled them to become a reliable partner for businesses seeking advanced technological solutions.
Zartek Technologies is an inventive business offering cutting-edge solutions across numerous technological fields. Zartek Technologies was established in 2017 and is headquartered in Kerala, India. The business has made a name by heavily emphasizing cutting-edge technology and a customer-centric strategy. Offering a comprehensive range of services and goods to meet various business needs, Zartek Technologies. The business has built a solid reputation for dependability and excellence in the market due to its dedication to being at the forefront of technical innovations and providing top-notch solutions.
Utility Technologies is a forward-thinking business that offers cutting-edge solutions in the technology industry. The company was established in 2016 and is based in Washington, USA. The business has continually worked to provide goods and services that improve connectivity, streamline operations, and contribute to the changing technology landscape with a team of committed employees. Utility Technologies is committed to developing significant solutions that serve a variety of sectors since it is passionate about pushing limits. The business has established itself as a major participant in technological innovation.
A significant player in the app development industry, Ripen App Technologies focuses on developing unique and reliable mobile applications for use in various industries. The company was established in 2013 and is headquartered in Uttar Pradesh, India. Ripen App Technologies has established a reputation for providing innovative solutions that address the various needs of both users and organizations.Ripen App Technologies is renowned for its dedication to quality, originality, and customer happiness. The company has a team of qualified and experienced developers. Their portfolio features a variety of noteworthy projects, from web applications to mobile apps, showcasing their prowess in using cutting-edge technologies to produce outstanding outcomes.
Promatics Technologies is a well-established software development company that delivers innovative digital solutions to a global clientele. Founded in 2008, the company has its headquarters in New York, United States. Promatics Technologies is renowned for its proficiency in offering a wide spectrum of services, including mobile app development, web development, e-commerce solutions, UI/UX design, and digital marketing. With a strong commitment to client satisfaction, Promatics Technologies has grown to become a trusted partner for businesses seeking high-quality technological solutions. The company's skilled developers, designers, and digital strategists work collaboratively to create bespoke solutions that align with clients' goals and requirements. Promatics Technologies continues to make a mark in the competitive software development landscape with a focus on innovation and a customer-centric approach.
Want to Build an Educational App?
Get Expert Consultation on E-learning App Development Business!
Wrapping Up
It would help if you chose the business that best meets your demands as a reader and user. You can research their projects extensively and apps before deciding on your App Development Partner after looking at their portfolio. You can evaluate their devotion to and fulfillment of their promises through this inquiry.
However, if you're searching for an app development company, consider focusing on Lilac Infotech. As we already mentioned, Lilac Infotech's experience in developing top-notch business solutions makes it a great alternative for your upcoming project.
---
---