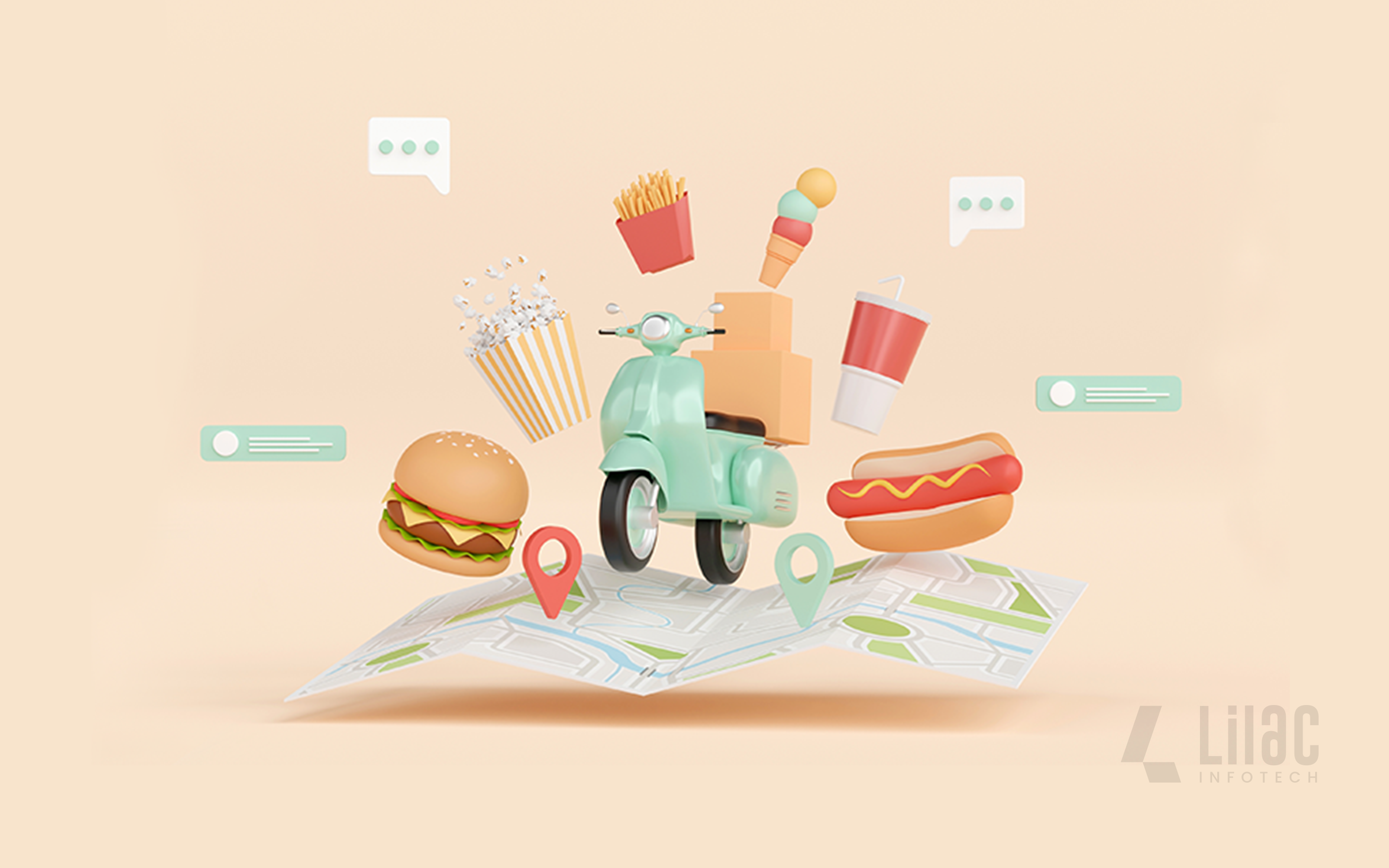 ---
When we are hungry, we frequently use meal delivery apps such as Door Dash, Grubhub, Uber Eats, Swiggy, or Zomato to satisfy our demands. In recent years, the market for Internet meal delivery has grown dramatically, reaching billions of dollars. The emergence of user-friendly food delivery smartphone applications, improved courier networks, and increasing customer expectations is driving this expansion. The ease of ordering meals via smart devices and the internet has contributed to the popularity of food delivery apps, particularly during the pandemic, when people sought safe and sanitary alternatives.
Working with an experienced food delivery app development firm may be quite advantageous if you operate a restaurant or want to launch an online food delivery service. It is critical to select the correct food delivery app development firm for the success of your mobile app concept. Choosing the best firm might be difficult with so many alternatives available. As a result, it is critical to collaborate with a talented and creative team that can bring your idea to reality. That's why we've put up this article to walk you through some of the best on-demand food delivery app development firms.
What Is the Definition of On-Demand Food Delivery Apps?
On-demand food delivery apps are smartphone applications that connect clients with nearby eateries, allowing them to order meals for delivery or pickup. These applications provide a simple and quick way for consumers to explore menus, place orders, make secure payments, and follow the status of their meal delivery, all from the comfort of their smartphones. On-demand meal delivery applications cater to varying culinary interests by offering a vast selection of restaurant alternatives and comprehensive menu options, allowing users to discover and enjoy numerous cuisines.
These applications provide a time-saving alternative to traditional eating or cooking, allowing you to enjoy restaurant-quality meals without leaving your house or workplace. In addition to user-friendly interfaces and a wide range of options, on-demand food delivery apps frequently include features such as customer reviews, ratings, and personalized suggestions, which improve the whole eating experience. These applications have revolutionized the food sector by bridging the gap between customers and local eateries while also revolutionizing how individuals access and enjoy their favorite dishes.
Understanding the Food Delivery Industry: Market Size and Worldwide Statistics
In recent years, the meal delivery business has seen substantial development and transformation. The worldwide online meal delivery market has evolved into a thriving industry, fuelled by factors such as rising internet penetration, smartphone proliferation, technical developments, and the advent of cloud kitchens.
Grand View Research estimates that the worldwide online meal delivery business will be worth USD 221.65 billion in 2022. From 2023 to 2030, it is expected to increase at a compound annual growth rate (CAGR) of 10.3%. It also forecasts that the industry will reach a whopping USD 505.50 billion by 2030, indicating the business's significant potential for further expansion.
Key businesses such as Uber Eats, DoorDash, Grubhub, and Postmates are battling for market share. These companies spend a lot of money on marketing and advertising to acquire new clients and create a solid footing in the business.
However, the Internet meal delivery sector is not without its difficulties. Rising delivery costs, more rivalry from traditional restaurants coming into the online arena, and regulatory difficulties are just a few of the challenges that enterprises in this area face.
Why Does Your Restaurant Need an On-Demand Food Delivery App?
In today's fast-paced world, having on-demand meal delivery software for your food company is no longer a luxury but a need. Here are the top five reasons why your restaurant requires an on-demand food delivery app:
Increased consumer convenience: With an on-demand meal delivery app, clients can order food at any time and from any location, making it extremely handy for them.
Client reach increases: By providing a meal delivery app, you may reach a larger client base, including those who prefer the convenience of ordering food via their smartphones.
Enhanced Customer Loyalty: Loyalty may be increased by providing a seamless and quick meal delivery experience via an app.
Improved operational efficiency: By using a dedicated food delivery app, you may streamline your order management process, minimizing mistakes and enhancing food preparation and delivery efficiency.
Order monitoring in real-time: Customers value transparency and the ability to follow their orders in real-time. They can do so using an on-demand meal delivery app, resulting in a superior client experience.
Increased income potential: By integrating a meal delivery app, you may reach clients who might not have visited your physical location otherwise.
Competitive advantage: Providing a meal delivery app distinguishes your company from competitors who have not yet adopted this technology, offering you a market advantage.
Data-driven insights: An on-demand food delivery app delivers useful data and analytics that may assist you in understanding client preferences, tracking order patterns, and making sound business decisions.
The World's Top 10 Food Delivery App Development Companies
The need for on-demand food delivery applications is growing, and selecting the best on-demand food delivery app development business is critical for success in this competitive industry. This expanding trend has resulted in the rise of several meal delivery app development companies, each trying to give the finest solutions to food sector businesses. If you want to build a food delivery app for your restaurant or food business, you must work with a reputable and experienced development company. To assist you in your quest, we have produced a list of the world's top ten food delivery app development businesses.
#1. Xicom Technologies
Xicom Technologies is a top app development company renowned in the international market for its quality, services, and revenue. They create meal delivery applications using cutting-edge technologies that are personalized to clients' interests and needs. Xicom uses cutting-edge app development technologies such as cloud computing, IoT, blockchain, AI/ML, and big data analytics. Xicom delivers high software competency and post-development support, with a focus on simplicity and appealing UI features. Finance, automotive, healthcare, banking, real estate, retail, travel, education, and e-learning are just a few of the sectors they serve.
#2. Tapptitude
Tapptitude is a well-known product development company that creates engaging solutions in collaboration with small and medium-sized enterprises. They have a great reputation for developing cutting-edge food delivery software. Tapptitude uses an agile approach to provide speedy and adaptable development to provide the most value to its clients. Tapptitude provides excellent meal delivery software and actively assists product partners throughout the app development process. They provide mobile app development, product conception, product UI/UX design, and web development services.
#3. Cubix
Cubix is a top food delivery app development company that provides speedy development solutions. Cubix provides new food delivery mobile app concepts to millions of devices with a team of highly experienced engineers. They have over 10 years of expertise in developing, optimizing, and integrating sophisticated enterprise-level on-demand software solutions. Cubix has established itself as one of India's leading culinary app development firms by excelling in IoT, AI, ML, SaaS, augmented reality, virtual reality, and other technologies. Real estate, education, social networking, banking, finance, insurance, and on-demand services are among the industries served by their services.
#4. Octal IT Solutions
Octal IT Solution is a premier mobile app developer specializing in food delivery app development. Their meal delivery applications are extremely engaging and simple to use, connecting restaurants and fast food outlets with customers. Octal IT Solution's apps, like those of prominent platforms such as Uber Eats, Talabat, and GrubHub, are designed to deliver a smooth user experience. They have a solid name in the market, with over 500 clients and 180+ professionals.
#5. iCoderz
iCoderz is a mobile app development business that was started in 2011. They specialize in developing specialized mobile apps for a variety of business sectors and genres on a variety of operating systems. iCoderz has extensive experience developing online meal delivery apps for a variety of markets and company types. They provide best-in-class specialized restaurant app development services for meal delivery services, individual restaurants, and restaurant aggregators. You may utilize their assistance to create distinct brand recognition for your food business and surprise your customers with novel features and services.
#6. Lilac Infotech
Lilac Infotech has extensive technological knowledge and expertise in implementing new software requirements. Their healthcare experience has been established to deliver solutions that fit their clients' needs, demands, and budgets. Lilac Foodmine is mobile-centric delivery management software that is both powerful and simple to use for your organization. With our robust delivery application, you can streamline your whole Instant Product delivery procedure. Foodmine provides an exceptional client experience, from accepting orders to delivering items. Some of the best features of Lilac Foodmine are online ordering, food delivery dispatching, kitchen and menu management, order management software, reporting and analytics, and live tracking.
#7. Arka Software
Arka Software is driven by the desire to use technology to make the world a better place. They add value to clients through efficient communication and excellent service delivery as one of the best meal delivery app development firms. Arka Software provides a completely integrated meal delivery ecosystem that includes a website, customer app, delivery agent app, restaurant panel, management back-office panel, and analytics dashboard. They are also recognized for web development, eCommerce solutions, corporate software, specialized personnel, and managed IT services.
#8. RightPoint
RightPoint is a well-known software development company that provides cutting-edge meal delivery mobile app solutions. They have over 10 years of experience and have created a creative culture that prioritizes end-user objectives. RightPoint offers a full variety of application and software development services to companies of all kinds, including start-ups, SMEs, and major organizations. They collaborate closely with their clients to create innovative mobile goods.
#9. ValueCoders
ValueCoders is a well-known mobile app development company with considerable experience in developing numerous software solutions. They have successfully served over 2500 clients from 33 countries. ValueCoders is well-known for developing top meal delivery applications that include cutting-edge technologies such as blockchain, AI/ML, AR/VR, and others. Their app creation offers features such as an easily accessible dashboard, personalized search, and quick meal ordering. ValueCoders focuses on providing cutting-edge management capabilities for order management, transaction history, and cart management. Their services include software development, mobile and web app development, and digital transformation, in addition to app creation.
#10. Intellectsoft
Intelligence is a prominent software development firm that can make your food delivery app idea a reality. Intellectsoft has had significant development since its inception in 2007. It is supported by a team of incredibly competent engineers. They specialize in developing, modifying, and integrating enterprise-level solutions. Intellectsoft has over 10 years of experience working with Fortune 500 companies and start-up foundations, establishing itself as a well-known food-ordering app development business. Product engineering and strategy, online and mobile app development, and software development services outsourcing are among its offerings.
How Do You Pick the Best Food Delivery App Development Partner?
Choosing the proper food delivery app development partner is an important step in launching your on-demand meal delivery company. You may pick a partner that can successfully bring your food delivery app concept to life and help the success of your business by completing extensive research and assessment. Here are some important aspects to consider when choosing a partner for your app development:
Look for a development partner with a track record of success in developing successful food delivery applications. Examine their portfolio and previous experience designing similar applications to confirm they have the required knowledge.
Examine the technological stack used by the development partner. Ascertain that they are conversant with the most recent app development frameworks and technologies capable of providing a solid and scalable solution for your food delivery app.
Scalability and customization
Your food delivery software should be customized to meet the needs of your business. Choose a development partner who can provide customization choices to fit your specific requirements. Consider their capacity to scale the app as your company expands.
Design and User Experience
Customer satisfaction requires user-friendly and visually appealing software. Examine the development partner's design and user experience capabilities to guarantee they can construct an intuitive and visually appealing app.
Functionality and features
Make a list of the features and functionality that your meal delivery app must have. Discuss these needs with the development partner and evaluate their ability to incorporate them into the app.
Capabilities for Integration
Consider the development partner's integration skills. Payment gateways, inventory management, and third-party services may all require integration with your meal delivery app. Ascertain that the development partner is capable of handling these integrations efficiently.
Data Security and Privacy
Customers' sensitive information and financial transactions are handled by food delivery applications. It is critical to select a development partner who values security and data privacy. Inquire about their security procedures, encryption processes, and data protection rule compliance.
Maintenance and assistance
App development is a continuous process, and after the first launch, you will require support and maintenance. Discuss the development partner's post-launch support and maintenance services to verify they can deliver timely updates, bug fixes, and technical assistance as needed.
Examine the price structure of the development partner to verify it is compatible with your budget. Discuss the project timetable and confirm they can produce the app within the timeframe you want.
Client Ratings and Reviews
To acquire insight into the development partner's reputation, dependability, and customer happiness, request client references and check internet evaluations.
The Price of Creating a Food Delivery App
Several variables influence the cost of establishing a food delivery service. Here's a rundown of the factors that determine the price:
The intricacy of your app has a big impact on the pricing. A simple app with necessary functionality will be less expensive than a sophisticated app with additional functionalities such as real-time order tracking, personalized suggestions, or interaction with third-party services.
Functionality and features
The pricing is determined by the number and complexity of features you wish to include in your app. User registration, menu browsing, order placing, payment processing, and customer assistance are all common features. Loyalty programs, promo code systems, and multi-language support may necessitate additional cost.
Your app's visual design and user interface add to its attractiveness and usability. Investing in a user-friendly and visually appealing design may raise the overall development cost.
There will be continuing fees for app maintenance, upgrades, bug patches, and support beyond the original creation. Consider these expenses while budgeting for your food delivery app.
Quality Control and Testing
To provide a bug-free and pleasant user experience, extensive testing and quality assurance are required. This procedure may raise development costs, but it is necessary to provide a dependable and user-friendly program.
It is best to connect with expert app development organizations or developers to acquire an exact cost estimate for your unique food delivery app project. They may examine your demands, present a thorough proposal, and provide a more realistic cost estimate based on your specific requirements.
Conclusion
Creating a food delivery app is a complicated process that requires knowledge and experience. It is critical to work with a reputable and experienced food delivery app development firm to ensure the success of your app. Several leading organizations have flourished in this industry, offering superior solutions and services. Lilac Infotech, on the other hand, stands out as a market leader in on-demand food delivery app development.
Lilac Infotech provides unique and creative food delivery app development solutions based on their significant expertise, technological competence, and commitment to customer satisfaction. If you want to construct a cutting-edge food delivery app, don't hesitate to contact Lilac Infotech for excellent services.
---
---