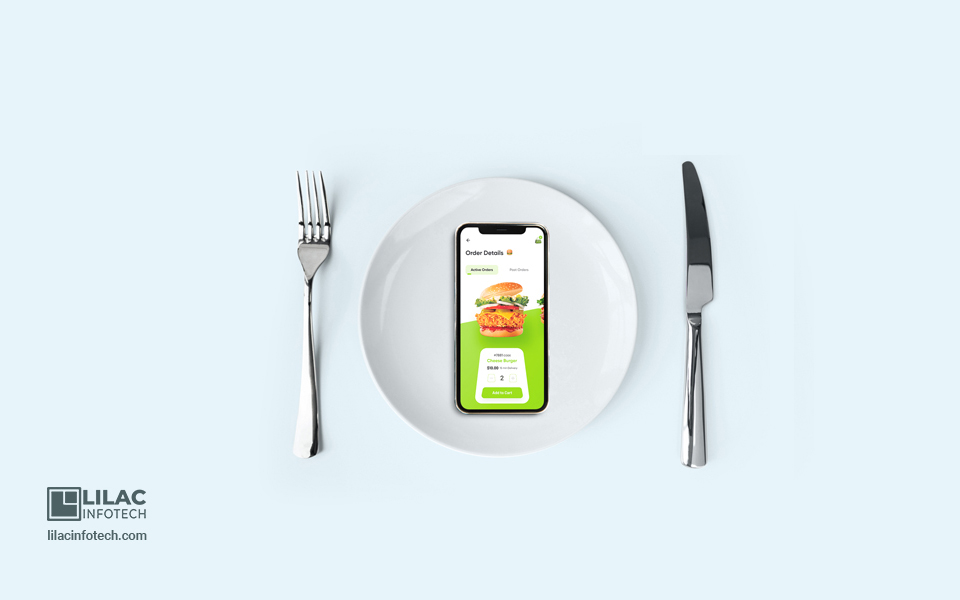 ---
Is there anything a smartphone can't do today? From booking a train ticket to buying your favorite dress to booking an appointment for a doctor, technology has given us a solution by just sitting at home getting everything just a phone click away.
Amongst the on-demand services, food delivery is the fastest-growing segment with some major players getting over a million orders per day.
India's online food industry is expected to become an $8 billion market by 2022 by growing at a CAGR of 25-30%. The food tech has grown over 6 times in the last couple of years. The report also mentions a variety of cuisines was one of the top reasons for the repeated use ofInstant food delivery app in the country followed by good discounts and convenience.
Seeing this as a golden opportunity, mobile app development companies are taking advanced measures to make their applications sophisticated and hassle-free.
10 Best Instant Food Delivery Apps

1. ZOMATO
Zomato is an Indian restaurant aggregator as well as a instant food delivery app. After the acquisition of Ubereats Indian operations, undoubtedly Zomato has become the largest food giant. Apart from food delivering it also provides information, menu, and user reviews about a restaurant. Hygiene and quality are the two things the app keeps a check on. Amid the COVID lockdown, Zomato has also moved towards grocery delivery.
2. SWIGGY
Swiggy is one of the best food delivery apps in India. The fast delivery of food is what catches everyone's eye, who doesn't want to have piping hot food? Live order tracking is one of the other high points of the app. Also, Swiggy is available in almost all cities in India. The offers and discounts are grabbing every user's attention.
3. FAASOS
Faasos operates in 34 largest cities in India. It takes customer orders via its mobile app and website. It is the only vertically integrated food business in India and operates all three stages of a "food on demand" business which is ordering, distribution, and order fulfillment. With a great range of restaurants, Faasos helps the users to eat good food. Faasos has a premium version that promises you free food if the order is not delivered in 30 minutes.
4. DELIVEROO
Deliveroo is a food delivery company based in London, considering the growing opportunities in the food market in India Deliveroo started operations in India. Deliveroo receives over 20000 orders a day in the Indian markets, with a growth of 20-25% month-on-month.
5. GRUBHUB
Grubhub has a large number of restaurants to choose from. The customer service is commendable; they are 24*7 available to solve all the customer queries. A great feature of Grubhub is that it allows you to find all the deals running in the nearby restaurants. Also there some great discounts provided by Grubhub throughout the year.
Potafo is a food delivery app based in Calicut, Kerala. The Keralites' love for food is the driving force behind Potato. The app focuses on connecting many local restaurants with the customers but the quality of food is not compromised. The users can check the menu, complete the order really fast and enjoy some mouth-relishing food. The app also provides various offers and discounts.


7. PIZZA HUT
Indians' love for pizza has only grown over the years, with Pizza Hut coming up with an app for food delivering it did catch up the market grip. Faster delivery, live tracking, and great offers are also provided by Pizza Hut. The app is really user-friendly which helps in making the food ordering process really simple and faster.
8. EAT FIT
If you are a health freak and a person who counts on the intake of calories then Eat Fit is your one all solution. The generation today is so fast-paced that there is hardly any time for physical activities and with the tension that people go through Eat Fit is an app that helps you strike a healthy balance at least when it comes to food. The app also provides nutritional education and also helps in customizing the food.
The app also provides nutritional education and also helps in customizing the food.
9. DOMINO'S
Domino's app has a pizza for every occasion, customization is their best feature. The pizza varieties are supremely tasty and mouth-watering. Dominos has the best cheesy crust and if you get the pleasure of having it lying in your dining room the fun only doubles. 30-minute delivery is what the app offers, or else you get it free. Another great attraction is that you can order your pizza from the nearest Domino's outlet and the pizza will be delivered on a train too. Which means you can enjoy a pizza even during a boring train journey.

10. DUNZO

Dunzo is an app delivering not only food but also groceries and pet supplies. It works 24*7 and delivers anything in 45 minutes which is their high point. Another highlight of the app is that there is no minimum order quantity, also there are no location constraints within the city, there are great offers and discounts which are some of the features that make Dunzo stand out in the industry. The user can order anything they need from their favorite restaurant in the city at any time.
In today's times when everyone is glued to their smartphones and every other business has an app it is really important to create a mobile application for your business. All the Instant Instant food delivery apps are trying to come out with unique features for their existence.
We, Lilac Infotech, are a pioneering food delivery app development company, that offers potential for a variety of services to our consumers. Rigorous insights and suggestions will be sent to clients before the start of the project. Our background in designing applications is something that we proudly keep put across. You can also recruit our mobile app developers to help you grow your mobile app

---
---