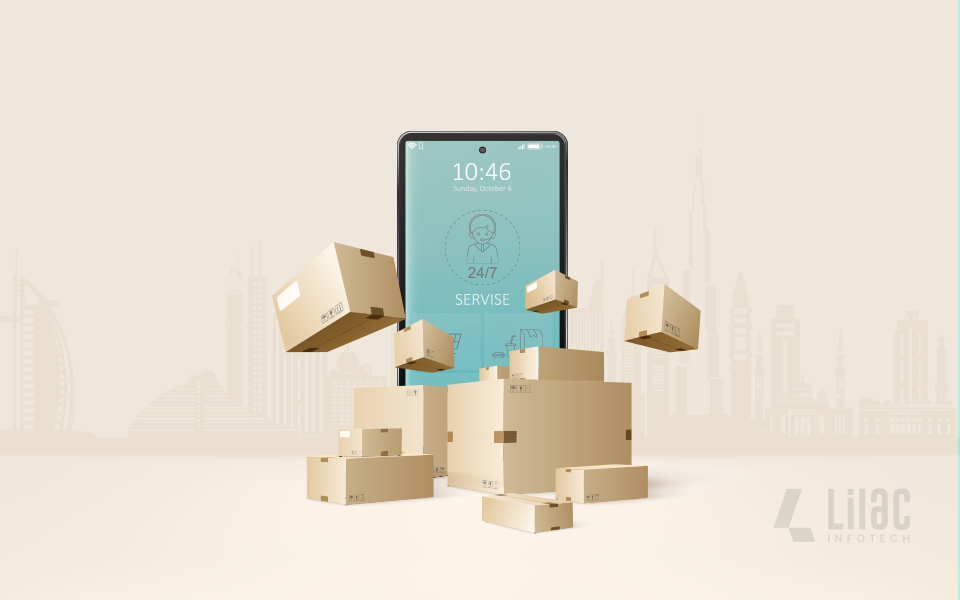 ---
Mobile applications have become a necessary and fundamental part of people's lives. Mobile applications are now used for practically everything, from hiring a cab to shopping, scheduling a doctor's appointment, and finding amusement.
In this extensive list of applications, online meal delivery has evolved as a thriving market, with several firms launching On demand delivery apps. Food ordering app development companies are also meeting customers' needs for enhanced food delivery solutions. When it comes to developing a successful meal delivery app, though, it may be fairly difficult.
What is the future of Food Delivery apps in the UAE?
Due to isolation methods and operating constraints at restaurants, the online food delivery apps industry saw an increase in the days and weeks after the COVID-19 epidemic.
However, given the increasing desire for international cuisines, broad internet access, social media involvement, and the evolution of the food preparation and ordering system, this trend is expected to continue in the post- Covid era.
Digital adoption and e-commerce have been at the vanguard of disruptive technologies, upending the globe. As customers become more comfortable with online purchasing, online meal ordering has evolved as a natural next step. Customers who had become accustomed to e-commerce expected the same ease of ordering meals. As a result, the internet meal delivery market took off. This also fueled the advancement of backend technology.
The most prominent of these technologies are cloud kitchens, which are commercial facilities that prepare and transport meals while being backed by third-party service providers. They are based on a delivery-only business model, and the food brands that operate within them are referred to as virtual restaurants. Cloud kitchens have quickly paved the way for a new arena of online eateries and new brands due to their flexibility and scalability. Restaurant owners may either expand an existing idea or create a new virtual brand for very little money.
The Importance of Food Delivery Apps in Dubai, UAE
Millions of people visit Dubai each year to experience the romance of the unusual; it is a city of dreams. Dubai has a lot to offer and can meet all of your expectations, but every company sector in Dubai also need to adapt effectively to the global need for technology. Restaurants are one of those competitive industries where satisfying client needs at their convenience increases business and gives you an advantage over rivals. I agree with your current marketing tactics, which could attract a sizable number of people to your restaurants, but given the tech era, these tactics must be combined with the app technology, which will assist you in running the business.
Key Components That Make Great Food Delivery App like Deliveroo
Instant delivery apps in Dubai must satisfy a large number of stakeholders. They interact with customers, restaurants, and delivery partners. Apps like these require a separate interface to accommodate all of these stakeholders. As a result, having features for your food app that can satisfy all of these stakeholders is critical. This can be difficult, so we've provided a list of all the features required in on demandfood delivery apps in UAE.
Food delivery apps are typically used when people are hungry, so they must be efficient when a customer orders food. If they don't make it easy for these customers to order food, they may become frustrated and switch to another platform in the future.
Customers should have multiple payment options when ordering. These options allow customers to pay in cash, electronic money, or even with earned rewards. You can also include promotional codes and offers to entice customers to pay with a specific method.
A good delivery app's sign-up process should be simple and painless. This entails making it easy for customers to sign up and then asking for details only when they order. This allows them to navigate easily and quickly, and then commit to filling in details once they are satisfied with what they see.
Including extra features gives you a competitive advantage. One of these features is the Pickup Option. Along with food delivery, you can include a pick-up option from the restaurant. This means that customers can order before they arrive and will not have to wait for their orders once they arrive.
Provide accurate information
Online delivery is also fraught with uncertainty. Users cannot see where the delivery person is, so it is up to the company to ensure that customers receive complete information about their food, its preparation, and delivery time. This entails providing information about the delivery person's current location as well as a way for the customer to contact them if desired. Deliveroo accomplishes this by embedding information about the total time the delivery guy spent on the road and how long it took him to deliver your food.
Real-time customer support entails responding to all inquiries in real-time. It enables customers to resolve complaints and issues on the spot, lowering the likelihood of them being dissatisfied.
Best Food Delivery App Developers in UAE
1. Talabat
Talabat, the Middle East's largest online food delivery platform, is a UAE-based company. Its name means' orders' in Arabic, and it is very good at handling food delivery orders. Talabat, the most popular food delivery app, was released in 2012 for both iOS and Android devices.
Talabat Includes:
User App
Restaurant App
Delivery Boy App
2. Deliveroo
For a reason, Amazon recently invested a significant sum of money in Deliveroo. Deliveroo is one of the most popular food delivery apps in the UAE, with millions of users daily.
The food delivery brand, which was founded in 2013, is currently fashionable and well-known. Deliveroo now operates in over 200 cities worldwide, including the United Kingdom, Europe, and the United Arab Emirates.
Deliveroo includes:
User App
Provider App
Delivery App
Super Admin
3. Zomato
Coming from an Asian country's backyard, Zomato understands the UAE's core values very well. At the moment, it primarily provides food delivery services in Dubai and Qatar, but it plans to expand throughout the UAE.
Currently, the brand serves over 24 countries and approximately 10,000 cities worldwide. In addition, Zomato has over 100 million Android users worldwide and 70 million iOS users.
Zomato includes:
Customer App
Restaurant Owner App
Delivery Partner App
4. Uber Eats
Uber Eats is as ubiquitous as Uber itself, and the brand name is assisting them in gaining user trust. It is widely used and very popular in the UAE as well. The popular food delivery service, which was founded in 2014, had revenue of USD 1.46 billion at the end of 2018.
UberEats includes:
User App
Restaurant App
Delivery Boy App
5. Careem
Careem is a popular food delivery service that has been operating in the UAE since 2018. It is currently trending among the top food delivery apps in the country. Let's take a look at the features. Furthermore, the brand's value has been estimated to be USD 2 billion by 2018.
Careen includes:
Customer App
Restaurant App
Delivery Partner App
How Much Does IT Cost To Develop An App Like Deliveroo?
Several parameters must be considered when estimating the cost of developing an on-demand food delivery app such as Deliveroo or UberEats. The cost of developing an on-demand delivery app is generally determined by the app platform, features and functionalities, experience, and location of mobile app developers. Aside from these factors, the cost of a mobile app varies according to app type. I mean that the cost of developing native food delivery apps will differ from that of developing hybrid food delivery apps.
The best food delivery mobile app development companies, such as Hyena, will provide an affordable price quote for developing feature-rich and flawless food delivery apps like Deliveroo, UberEats, and Grubhub.
The cost of developing a food delivery app like Deliveroo or UberEats will range between $10000~ $30000 depending on these factors. This price range includes expenditures for mobile app design, development of Android or iOS version(s), app quality testing, app submission(s), and app support and maintenance services.
Conclusion
We, Lilac Infotech have given you the best strategies for running a food delivery app in Dubai. If you are seeking a food delivery app development UAE to manage your food delivery technology team or if you want to outsource your IT technology management job to us, we are the company to call.
We will have a team of full-stack engineers, designers, and project managers with experience managing customers for food delivery services. You can reach out to the mobile app development company in Dubai who can provide you with the best solution.

---
---