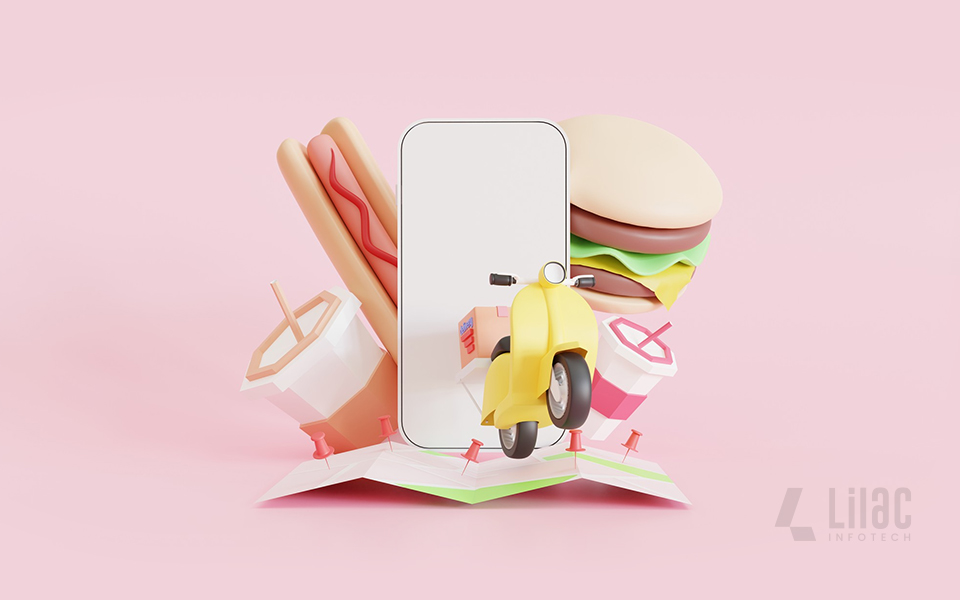 ---
Why are food delivery apps successful? People are always looking for methods to simplify their everyday tasks, and food delivery applications have revolutionized this pursuit of simplicity and effectiveness. Food delivery apps are now common in our lives, whether it's a busy professional seeking a quick lunch choice or a family yearning for a hassle-free dinner solution. But what exactly accounts for these apps' popularity? Let's explore the elements that have pushed meal delivery services to the forefront of contemporary eating.
Why are Food Delivery Apps Successful?
Convenience at Your Fingertips:
The incredible convenience that Food Delivery Apps provide is the main factor in their popularity. You may get your favorite meal delivered right to your door with just a few taps on your smartphone. The days of placing an order over the phone or paging through large printed menus are long gone. These apps offer a user-friendly interface that makes the procedure simple and quick.
There are no restrictions on Food Delivery Applications. You can find everything in one location, whether you're hungry for sushi, Indian, pizza, or something different. These applications work with various establishments to ensure something to please every palate. Food delivery apps are an appealing alternative for many due to the vast consumer base they appeal to.
Customization and Special Requests:
Users of food delivery apps can completely personalize their meals. Do you prefer a salad without onions or additional cheese on your pizza? No issue! By allowing you to be specific about your tastes and dietary requirements, these applications help you obtain exactly what you want. The overall eating experience is enhanced by this degree of personalization.
The fast-paced nature of modern living frequently limits our time and energy for meal preparation. Apps that deliver food fill this gap by providing a practical remedy. You can use that time to do other vital duties or unwind while preparing your dinner rather than spending hours in the kitchen.
Apps for food delivery have simplified the payment process. They provide safe online payment methods, eliminating the necessity for physical cash exchanges. Users feel more secure as a result, which not only improves the entire experience.
In the past, we couldn't have imagined having the luxury of knowing exactly when our food would arrive. Most meal delivery applications allow you to track your orders in real-time so that you can keep tabs on the status of your delivery. This feature increases confidence while also introducing a sense of anticipation for the arrival of your food.
Due to the widespread exclusive offers, discounts, and reward programs provided by meal delivery apps, eating out has become incredibly affordable. Cost-conscious customers are drawn to these alluring financial incentives, which persuade them to use these apps for their dining requirements. Food delivery apps have completely changed how people eat out, whether because of the appeal of "buy one, get one free" offers, cashback benefits through loyalty programs, exclusive promos during happy hours, or referral bonuses. Affordable prices draw in new customers and encourage return business, fostering a closer bond between diners and eateries. The restaurant dining environment has changed, making it more accessible and affordable.
On meal delivery apps, users may browse restaurant reviews and ratings to assist them in choosing where to place their orders. This openness fosters confidence and guarantees that customers enjoy a satisfying dining experience.
Feedback and Improvement:
Apps that deliver food continuously collect user feedback, enabling them to enhance services depending on user preferences and concerns. These apps will continue to be competitive and customer-focused thanks to their dedication to improving the user experience.
How Food Delivery Apps Make Money?
Now that you know the factors contributing to the popularity of Food Delivery Apps today, let's examine how these companies generate millions of dollars in revenue and how you can imitate their business strategies.
Customers are typically charged a delivery fee through meal delivery apps for each order. The cost of food delivery from the restaurant to the customer's location is normally covered by this price. The cost may vary based on elements like distance and location.
Commission from Restaurants:
Restaurants typically pay food delivery apps a commission on every order they receive through the platform. From 10% to 30% or more of the total order value may be included in this commission. As a result, some restaurants may decide to raise their menu prices on delivery apps. This is one of the major sources of income for these applications.
Some applications additionally charge users a service fee on top of delivery fees and restaurant commissions. This fee, often a percentage of the entire order amount, is designed to cover operating expenses and bring in extra money for the platform.
Customers can sign up for subscription services through some food delivery apps. For a monthly or yearly price, these subscriptions—often called loyalty or premium memberships—offer advantages like free delivery, discounts, or special offers. This ongoing source of income can be quite profitable.
Advertising and Promotions:
Food delivery services can make money by charging restaurants or other companies for advertising space. Additionally, they can charge eateries for premium app placement, which might raise order volume and exposure.
Partnerships and Collaborations:
Food delivery services frequently work with restaurants to create joint promotions and earn money through revenue-sharing arrangements.
Some applications that deliver food have added other services to their repertoire. They may provide food, drinks, or other items and charge a fee or receive a commission for these extra services.
Ready to Create Your Food Delivery App?
This blog post has explained why food delivery apps are so popular. If we missed anything, please mention it in the comment section below, and we will try our best to assist you.
The industry for food delivery apps has much room to expand in the future. If you have decided to establish your own food delivery app business, then make sure you seek the Best food delivery app development company's help. You can contact me for professional advice if you need direction or have questions. We are happy to assist at any time!
---
---