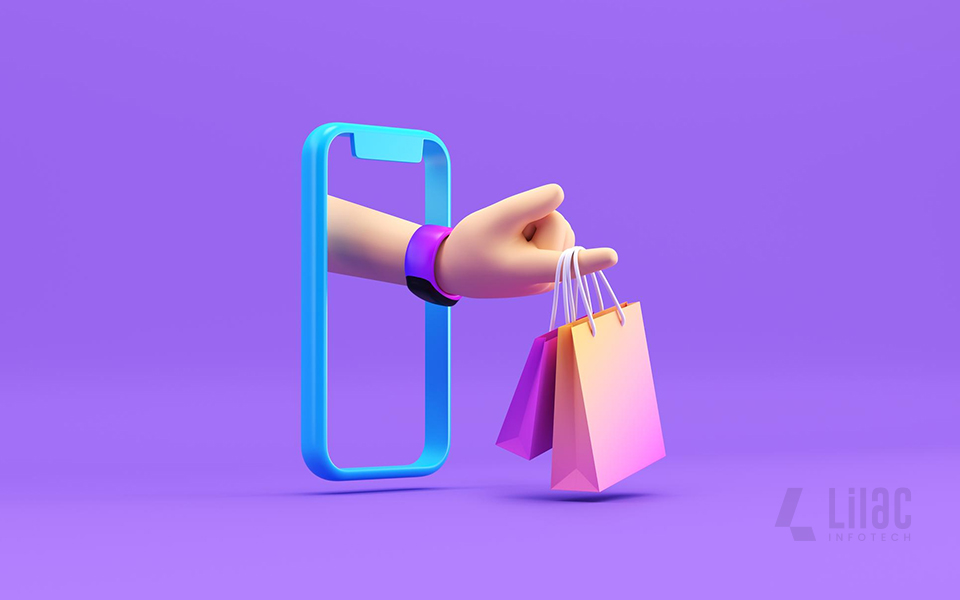 ---
"E-commerce isn't the cherry on the cake, it's the new cake" – Jean-Paul Ago, CEO L'Oreal
What is E-commerce? E-commerce is simply the word for using an electronic medium for business transactions. These days, it frequently refers to the act of offering goods and services to customers or other businesses online. E-commerce applications have become the engine of the global retail revolution in the constantly changing environment of online buying. With the extensive use of smartphones and the internet, consumers are increasingly turning to mobile applications for their purchasing requirements, making e-commerce apps a crucial avenue for businesses to prosper in the era of technology.
Are you an aspiring business owner or an established company looking to improve your online visibility with an e-commerce app?
Expertise and accuracy are needed to create effective e-commerce software that combines user experience, cutting-edge technology, and powerful functionalities. Specialized e-commerce app development companies can be useful in this situation. These technologically advanced firms are equipped with the knowledge and know-how to create cutting-edge, user-focused, and scalable apps that enable companies to succeed in the competitive online market.
This blog will help you to reach the top 10 on-demand E-commerce app development companies
Top 10 On-Demand E-commerce App Development Companies
1. Lilac Infotech: Lilac Infotech is a prominent IT solutions provider, specializing in e-commerce app development. Based in India, the company has established itself as a reliable partner for businesses seeking online retail solutions. Their services include customized e-commerce app development, seamless integration, user-friendly UI/UX design, mobile commerce solutions, payment gateway integration, and post-launch support. With a diverse clientele and industry recognition, Lilac Infotech continues to shape the future of e-commerce apps, empowering businesses to thrive in the digital marketplace.
2. Cubix :Cubix is a prominent e-commerce app development company that has earned a solid reputation for delivering cutting-edge digital solutions to businesses worldwide. With a strong focus on innovation, user experience, and scalability, Cubix has become a go-to partner for companies seeking to establish a robust and successful online presence. With over 12 years of experience, they have worked for clients that include individuals, startups, and organizations.
3. OpenXcell :OpenXcell is a distinguished software development and resource hiring company, established in 2009 and headquartered in the USA. Renowned for providing top talent from the IT industry, they deliver innovative solutions with a futuristic approach. Their client-centric services span diverse domains like healthcare, finance, and e-commerce. With a global presence and comprehensive consultation, OpenXcell remains a trusted partner for businesses seeking excellence in the IT landscape.
4. Solvelt :Solvelt is a reputable full-service software development company, serving clients in Europe and North America. With a client-centric approach, they offer a comprehensive range of services, including custom software development, design, and strategic product launches. Their expertise spans various industries, ensuring high-quality solutions that empower businesses to succeed in the digital landscape. Solvelt's adaptive and agile approach guarantees efficient project deliveries, making them a trusted partner for clients seeking innovative software solutions.
5. Zco Corporation: Zco Corporation is a leading e-commerce app development company with a strong reputation in the digital solutions industry. They specialize in crafting feature-rich e-commerce apps, offer customization and integration services, and excel in UI/UX design. With a focus on mobile commerce solutions and secure payment gateway integration, Zco Corporation ensures consistent and seamless shopping experiences. Their client-centric approach and industry recognition make them a reliable partner for businesses seeking success in the online retail market.
6. Sapphire Software Solutions: Sapphire Software Solutions is a prominent e-commerce app development company known for its cutting-edge solutions and customer-centric approach. With expertise in UI/UX design, mobile commerce, and secure payment gateway integration, they empower businesses to thrive in the digital retail landscape. Their commitment to innovation and customer satisfaction has earned them industry recognition and a diverse clientele. Sapphire Software Solutions is a reliable partner for businesses seeking success in the world of e-commerce.
7. Concetto Labs: Concetto Labs stands as a reliable and proficient software development company, equipped to meet the evolving technological needs of businesses. With a focus on custom software, web and mobile app development, and expertise in emerging technologies like blockchain, they continue to empower businesses to achieve remarkable success. For those seeking to harness the full potential of technology, Concetto Labs emerges as a strategic partner, driving growth and efficiency in the ever-changing digital landscape.
8. Enozom Software: Enozom Software is a leading software development company based in Egypt, serving a global clientele with innovative solutions since its inception. They specialize in e-commerce app development, custom software, web, and mobile app development. With a skilled team and a dedication to quality, Enozom has earned industry recognition and serves startups, SMEs, and enterprises across various sectors. Their customer-centric approach makes them a reliable partner for businesses seeking digital solutions for growth and success.
9. Bitswits: BitsWits is a leading mobile app development service provider in the USA, catering to diverse industries like e-commerce, healthcare, and gaming. Their client-centric approach ensures customized solutions that align with business objectives. They deliver feature-rich apps with seamless shopping experiences and efficient healthcare solutions. With a passion for innovation, timely delivery, and ongoing support, BitsWits excels as a reliable and innovative partner for mobile app development needs.
10. TechGropse : TechGropse is a globally recognized web and mobile app development company with offices in India, USA, Singapore, and UAE. Renowned for its innovative thinking and a team of inspiring minds, TechGropse leaves an extraordinary impact in the world of mobility solutions.
Their dynamic team comprises young and enthusiastic professionals, driven by a sincere dedication to turning dreams into exhilarating reality. With expertise in multiple domains, TechGropse empowers clients to achieve optimal results and reach new heights of success.
Beyond generating profits through marketing, TechGropse wins the trust of its clients through genuine integrity and cordiality. As a leading mobility firm, they stand tall, providing cutting-edge solutions that blend innovation, passion, and a client-centric approach, ensuring exceptional outcomes for businesses worldwide.
How to Select a Reliable E-commerce App Development Company for Your Next Project?
To find the right provider of E-commerce app development services, you must make a choice, weigh your options, and assess your needs, true?
Check out the five primary procedures for choosing a reputable e-commerce application development company for your upcoming project.
Research and Shortlisting: Begin by conducting thorough research to identify potential e-commerce app development companies. Look for companies with a strong track record, extensive experience, and a diverse portfolio showcasing their expertise in e-commerce app development. Shortlist companies that align with your project requirements and business goals.
Review Client Feedback and Testimonials: Once you have a list of potential companies, delve into client feedback and testimonials. Check their website and other review platforms to gauge their reputation and level of customer satisfaction. Pay attention to reviews related to project management, communication, and the ability to deliver high-quality solutions.
Assess Technical Expertise: Evaluate the technical expertise of each shortlisted company. Look for teams with skilled developers, designers, and project managers who can handle the complexities of e-commerce app development. Consider their proficiency in technologies like mobile app development, web development, payment gateway integration, and user experience design.
Communication and Collaboration: Collaboration and Communication: A project's success depends on effective collaboration and communication. Ensure that the e-commerce app development company has clear communication channels, and they are responsive to your queries and concerns. A company that values collaboration and keeps you involved throughout the development process is likely to deliver a more satisfactory result.
Cost and Timelines: While cost should not be the sole factor, it's essential to consider the project budget. Request detailed project proposals from the shortlisted companies, including timelines and cost estimates. Be cautious of overly low-priced quotes that may compromise quality. Instead, focus on finding a balance between reasonable pricing and high-quality services.
Why Lilac Infotech for Your Next E-Commerce Project?
Connecting with an E-commerce app development company in the market may be easy, but finding the best one can be a challenging task.
Lilac Infotech is the ultimate destination for a fully customized and customer-centric e-commerce app development solution. With top-quality apps catering to all kinds of businesses, Lilac is available 24/7 to understand and fulfill your needs. Their enticing dashboard, multiple payment modes, and advanced reporting features offer a comprehensive overview of your business.
Building an e-commerce app requires time, money, and collaboration with various stakeholders. Many find developing Ecommerce apps challenging, but Lilac makes it seamless. Our team ensures you receive a tailored app with core features that perfectly align with your business requirements. All of this comes at a reasonable price, providing an all-in-one solution for your e-commerce venture.
Wrapping Up
In conclusion, selecting the right e-commerce app development company is a critical decision that can significantly impact the success of your online business. With the increasing demand for e-commerce solutions, the market is flooded with numerous options, making the task of finding the best company challenging.
However, by following the five main steps mentioned in this blog, you can navigate through the vast sea of choices and identify a reliable and competent e-commerce app development partner.
Moreover, exploring the top 10 e-commerce app development companies mentioned in this blog will provide you with a head start in your search for the ideal partner. Each of these companies possesses unique strengths and capabilities, making them stand out in the competitive market.
Remember, the success of your e-commerce app depends not only on technical expertise but also on understanding your business goals and delivering a customer-centric solution. By partnering with the right e-commerce app development company, you can unlock the full potential of your online business, enhance user experience, drive sales, and establish a strong digital presence in the dynamic world of e-commerce. So, take the time to choose wisely, and your efforts will be rewarded with a top-notch e-commerce app that propels your business to new heights.
If you're prepared to expand your company, Lilac is here to support you!
---
---