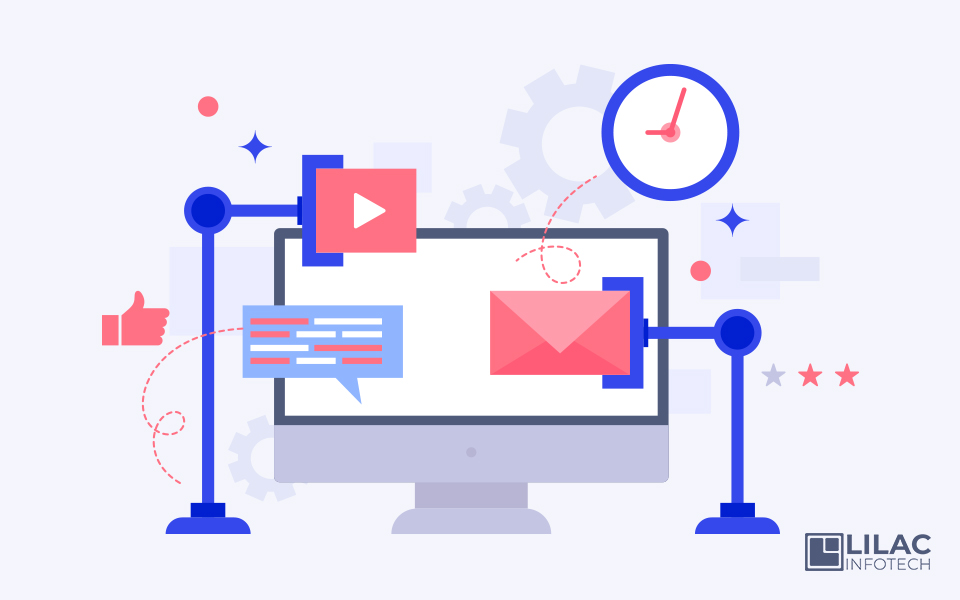 ---
To some, the words "marketing automation" can trigger panic mode. It can be difficult to identify where to start with any advanced marketing technology, and automation solutions are no different. But fear not, it's actually quite easy to get up and running, as long as goals have been clearly defined. One's digital presence encompasses many more platforms today than it did only a few years ago and more traditional formats like online video are evolving every day. As a result, many marketing automation solutions are poised to target customers and prospects with the right messages at the right time, regardless of whether you're delivering an email, an online video, or an advertisement across a mobile device, social media platform, or on a desktop. Yet, many companies are still struggling to take advantage of the ways they can increase engagement and generate more leads.
Today, marketing automation is increasingly being used for boosting customer satisfaction and loyalty by delivering targeted and meaningful interactions across customer segments. These positive emotional interactions ensure that you're the chosen favorite versus other brands. According to a report by Kapow, 68% of customers leave because they feel brands are indifferent to them. Therefore, as marketing automation has become more personalized, companies with excellent customer experience are winning the loyalty of their users. This ever-advancing technology has the power to help increase leads, drive conversions, and ultimately generate more revenue. Furthermore, the most advanced marketing automation platforms are far more than support tools, they are actually changing the marketer's role by streamlining, or even eliminating, the more tedious day-to-day tasks in their workloads.
Marketing Automation and Customer Satisfaction
Customer experience is constantly evolving. We may refer to it as the mobile experience or the social experience or the web experience, but they all have an experience in common. Marketing automation alone won't help you, just as a customer relationship management system alone won't. However, when combined, they can provide an effective way to mobilize your marketing messages so that they are optimized for delivery no matter who or where the customer may be. As your team gets more comfortable with marketing automation and the benefits it can provide, you can begin to grow and innovate with more advanced workflows. A/B testing, for example, is a great way to identify where to optimize and refine your marketing automation strategies. Testing allows you to send multiple variations of similar content to different groups, helping you know for sure if certain messaging is performing up to standards or not.
Marketing Automation and Customer Engagement Management perform complementary tasks utilizing different information sources. Working together, they can significantly increase the company's revenue. The analytics provided through Marketing Automation and Customer Engagement Management provide great value in uncovering where processes are breaking down or working well in either the marketing/sales process. Resources can be allocated optimally to solving customer issues or accelerating optimal use to drive more revenue faster during the presales, trials, and product use. Monitoring your users' choice of product through data collected from the automation software can help you predict which users have the potential for additional sales and which are at risk of churn. Combining this usage data with externally available data about the user such as position in the organization and the community (often obtained from social media sites such as LinkedIn or introductions made during events), can direct messages and actions appropriate for specific users. This includes proactively sending targeted help messages, training, and alerts to the customer service or sales teams. Predicting and serving customer needs even before they arise help in not only driving upsells and cross-sell revenues, but also enhance customer satisfaction and customer retention
If you sell your customer an appliance, she/he may also need supplies that go with the appliance. Automation helps you enter this information and keep track of the customer's stock as it runs low. As the appliance nears the end of its useful life, the customer may be in the market for an upgrade. However, what happens if this consumer's business model changed? You can help this buyer make changes by suggesting appliances that are more suitable along with related supplies.
Some More Tips
Limit the requirement for self-service. Try not to hold up until the client comes to you with a need. Track item execution and use. Foresee the client's needs before they crop up. A well-coordinated contact makes it conceivable to up-sell the client.
Get all departments on board. If you sell a new widget, there may be a warranty that goes with it. The warranty department tracks the expiration date and contacts the shopper to consider an extension. The installation department might contact the buyer to discuss a service call for a tune-up or check-up. Let the sales department keep track of supplies as well as possible replacement products.
Present VIP valuing and unique offers. Offer motivations when you reach. Celebrity evaluating additional items, for instance, can be a ground-breaking motivating force for a current client to redesign an item. At the point when you can offer profound limits, present these chances to your dedicated clients first. Nothing is more off-putting to a built-up purchaser than seeing a newcomer catch a lot while the long-term client followed through on full cost only a few days ago.
Customize emails and other engagements. By customizing the information you present in emails, you offer the consumer something of value. It is not a generic email that goes out to 1,000 shoppers. Instead, you customize the approach by targeting it to the 50 buyers of a green widget and the 950 buyers of the red one.
Marketing Automation can determine where the prospect stalls during the sales process and the greatest abandonment occurs. Marketing Automation and Customer Engagement Analysis can both provide data of the profile of the prospect that moves from a trial or free version of the product to a paid version. This information can be used to change the user experience and provide directed assistance to improve the probability of driving the user to the paid product version. Customer Engagement Management can uncover the product use profiles that correlate with customer retention and Up-Sells while giving guidance on how the product's most valuable characteristics can be promoted.
---
---