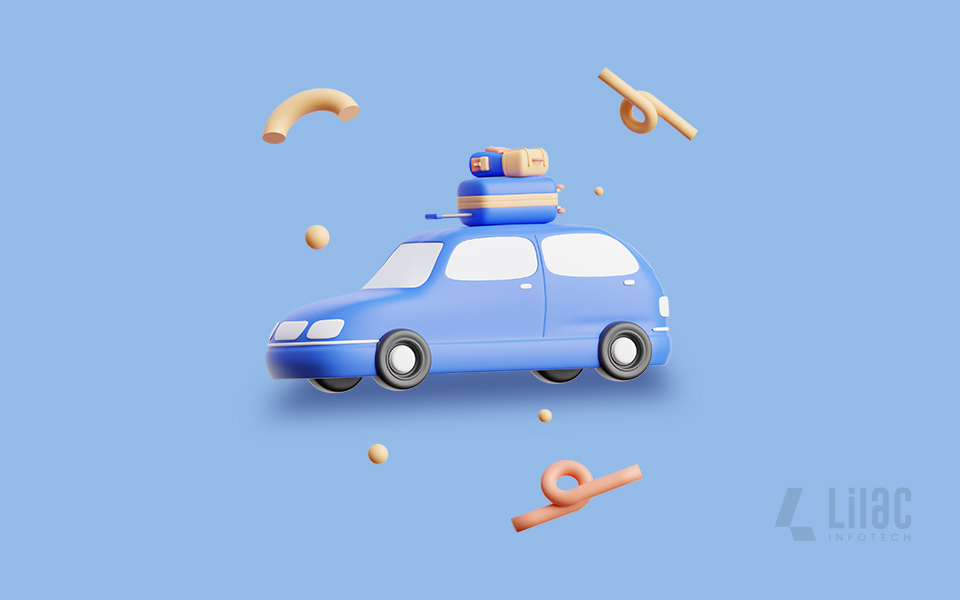 ---
Gone are the days when hailing a cab was a chore. There will be no more hours of waiting, racing to board your aircraft, or panicking in the event of an emergency. Taxi apps have rescued the day and drastically transformed the way we board cabs. Uber and Lyft are two significant cab-for-hire businesses that have established themselves as market leaders.
Uber is principally responsible for most of the transformation that has occurred in this arena. However, the market is also open to booking systems. This is why there are so many taxi-hailing applications on the entrants trying to build a cab market. Most of these businesses begin in a few cities and eventually expand their operations.
If you've ever considered developing taxi dispatch software or starting your own firm, this piece is for you. You will learn everything in depth here to assist you get started with your own business in the domain.
Taxi App Development Industry Overview
The taxi app development market has grown rapidly in recent years, fueled by rising demand for ride-hailing services globally. Here's a rundown of the taxi booking app:
Challenges and Opportunities
The following are some of the major problems confronting the taxi app development industry:
distinct nations have distinct rules that must be followed by all businesses. Even within a country, such as the United States, various states may have differing laws. This is a hurdle for businesses and their expansion ambitions.
The business has been frequently criticized for passenger safety, and a single event might forever damage the company's brand. This is a significant difficulty in an industry where trust is critical to corporate success.
Some of the industry's significant opportunities include:
With only 17% user penetration, the sector will attempt to grow into new areas. Although it will provide new obstacles, it will also present a major business opportunity. This sector has several undiscovered markets in both developed and developing countries. This is expected to alter in the next years.
Diversification of Services
Many taxi businesses are now looking to broaden their services by offering auto, bike, and even vehicle sharing. Another key development shortly is the integration of these applications with existing public transportation.
The taxi rental applications market, like most other sectors today, is rife with rivalry, with new and growing players competing against industry titans.
Driver retention is another issue that arises as a result of competition. Drivers will, of course, seek employment with a business that offers greater compensation. In this circumstance, companies must work hard to keep their drivers and top employees.
Market Forecasts and Trends
According to Statista, revenue in the ride-hailing and taxi industry is estimated to reach US$ 330.80 billion in 2023, growing at a 3.46% annual rate. The number of users is likewise growing, with user penetration predicted to reach 18.3% by 2027. China is the industry's largest market, with $130 billion in revenue, but the most relevant statistic for us is that online sales produce 55% of overall revenue.
10 Best Taxi Dispatch Software Solutions for Productive Operations
1. Lilac Cabture:
The best, taxi dispatch system is Lilac Cabture, which gives your company the tools it needs to succeed. Developing taxi dispatch software like Cabture requires managing distinctive opportunities and industry-specific difficulties. Such software solutions are essential in today's fast-paced world when people depend on taxis or cabs for their everyday commutes, home-to-office travel, and transportation needs. They improve their travel experiences and help them save time and money. Cabture's platform offers more than just a convenient and effective way to hire a cab for travelers. Additionally, it increases the number of work options available to drivers, promoting economic growth. The user-friendly online platform makes it simple to obtain all pertinent information and delivers real-time updates, guaranteeing travelers a smooth and trouble-free voyage.
2. Taxi Caller:
TaxiCaller makes sure you stay competitive with your passenger apps, a variety of driver job acceptance possibilities, and the capacity to draw business clients and earn new contracts. Your operations will be further streamlined by real-time driver tracking, VoIP service integration, and powerful analytics tools. TaxiCaller provides a comprehensive cloud-based solution that is adapted to your needs. It was created by Swedish engineers with experience in the telecom and transportation industries.
3. CabbyGo:
CabbyGo isn't just a taxi company; it operates on the support of users like you choosing our advertisers as destinations. This unique model enables us to offer you better deals on your next ride, saving you money while enjoying top-notch transportation services. Rest assured, our carriers are 100% approved by the PUC (PA Utility Commission) and possess the necessary licenses and insurance, guaranteeing a safe and reliable experience.
4. Taxi on the go:
The mobile apps are specifically made for active drivers, allowing them to pick up riders and generate additional revenue. This taxi booking software will revolutionize how you grow your taxi company. It provides a dependable mobile app for hassle-free booking administration to make sure that both drivers and passengers have a positive experience. Through the app, users can quickly register and schedule rides, which automatically notifies assigned drivers. A stress-free experience is guaranteed through instant trip booking, an automatic payment system, and a user-friendly interface. Using GPS technology, the admin interface offers real-time tracking and live monitoring of ongoing rides. Drivers can manage incoming ride requests quickly and approve or deny them by passenger reviews.
5. Taxi Mobility:
Through the use of cutting-edge technology and highly accurate features, Taxi Mobility revolutionizes dispatch processes. The paratransit dispatch system meets the needs of non-emergency medical transportation (NEMT), while our taxi dispatch system is built to grow your business. The comfort and safety of passengers are improved by GPS vehicle tracking. Our robust dispatch module optimizes processes and provides first-rate service. Experience TaxiMobility's transformative capability to improve the speed, efficacy, and efficiency of your NEMT and taxi services.
6. Sherlock Taxi Solution:
Sherlock is a complete system that effectively manages everyday tasks like scheduling, dispatching, billing, paying drivers, and reporting. Sherlock maximizes resource efficiency with a fully automated allocation process. Updates are included without further charge, and invoicing is adjusted according to usage. It encompasses the entire workflow, streamlining processes and lowering administrative costs. Sherlock improves the customer experience with ongoing innovation and white-labeled passenger apps.
7. Unico Taxi:
UnicoTaxi offers a versatile and cost-effective taxi solution with its Taxi Dispatch System, bridging the gap between taxi companies and discerning customers. Our intelligent software includes a powerful mobile app for easy passenger bookings, a dynamic driver app for the efficient execution of requests, and a well-organized admin panel for seamless monitoring. Streamline your operations, enhance customer satisfaction, and optimize your taxi business with UnicoTaxi. Experience the benefits of our comprehensive solution and connect with customers effortlessly.
8. Eber:
The booking and dispatch procedure is streamlined by Eber, a comprehensive internet network that links riders and drivers through specific apps and panels. Eber delivers a seamless and practical experience for both riders and drivers with features like integrated maps, several payment choices, smartphone notifications, and real-time updates. The platform's adaptability and scalability enable firms to develop and change. No matter what industry you're in—ride-hailing, auto rental, or bike taxi—Eber's on-demand business model can help you succeed. Experience Eber's efficiency and convenience to satisfy the demands of today's tech-savvy clients.
9. Tagmytaxi:
Tagmytaxi provides an on-demand taxi software option for rapidly establishing a company similar to Uber. You can maintain your competitiveness in the digitally transformed taxi business with our white-label taxi solution. The ready-made software gives taxi companies the ability to take charge, automate processes, and provide better results. Discover the sophisticated features of our innovative and successful Uber-clone taxi software. Utilize Tagmytaxi's cutting-edge technology to grow your taxi business and satisfy contemporary consumer demands.
10. Karry:
Karry is a painstakingly created taxi software that combines the best elements from popular ride-sharing scripts and well-known platforms like Uber, Ola, Didi, and Lyft. With the help of a white-label taxi app solution that is supported by cutting-edge dispatch technology, you can automate and update the management of your taxi fleet. With Karry, you can outperform the competition and give your clients a flawless experience.
Choosing the Best Taxi App Development Companies
Choosing the finest ride-sharing app development firm for your organization is only the first step. However, to avoid the entire procedure being shot in the dark, some criteria must be followed.
Here are five pointers to help you create the blueprint for your ideal partner company:
First, search for a corporation with a diverse portfolio. One who has experience designing apps of the type you need. This would be beneficial to you because a firm like that may provide realistic answers to your concerns. They would be aware of the usual issues, which would shorten the time it takes to promote the software. Furthermore, the mobile sector is continually evolving. The proper firm should be up to date on new technology. This would make your program future-proof while also providing an excellent user experience.
Communication is essential in all relationships, professional or personal. Your business partner should be a good listener. Before beginning any work, they must guarantee that everyone is on the same page, especially because developing an app from scratch may take weeks if not months. As a result, you must stay informed. Top taxi booking app development firms are excellent communicators, making it simple to work with them.
Because, unlike many of your competitors, you are less likely to have a significant investment when starting, you must select a partner firm that can construct your app within the allotted budget. The cost of the project will be determined by numerous criteria, including the location of the taxi booking app developers, customization, and time required. However, you should consult with an app development company to receive an accurate estimate. Many businesses provide free consultation calls. Use this discovery phone session to carefully assess the budget and confirm they are a good fit for you.
Conclusion
Using taxi apps to book taxis is quickly becoming the standard. The tendency will continue as internet usage rises and businesses expand into new markets. Although there are major businesses with significant investments, like Uber and Careem, there is still room for new entrants. This is evidenced by the influx of new taxi-for-hire apps into the market. If you want to create a carpool app for your taxi company, remember that selecting the correct app development company is critical to your success. Even if you are new to the sector, a company with the necessary skills will assist you in overcoming hurdles and better preparing for them. This is why Lilac Infotech is the ideal partner for your taxi-for-hire business
---
---